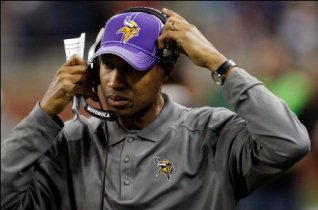 Posted by Josh Katzowitz
At some point, I just know we're going to find a group of coaches who actually agrees with the NFL Coaches Association's amicus brief to the Eighth Circuit Court of Appeals.
It hasn't happened yet, though, as the
Vikings
and the
Bills
have weighed in on the matter, throwing their support to the owners in this lockout battle.
The brief cited
numerous issues that would harm the league's coaches
if the lockout continued. (The brief also made the statement that owners demanded a provision in the coaches' contracts that would allow the team to withhold part of the coaches' salaries in the event of a lockout.)
The
Redskins
coaches
didn't agree
with the NFLCA. Neither did the
Saints
coaches, who said
they were appalled
by the brief. The staffs of the
Eagles
,
Cowboys
,
Jaguars
,
Texans
and
Chiefs
also threw their non-support behind the brief.
Now, there's word that the Bills have the owners' back (per the
Buffalo News
, via
Pro Football Talk)
while Vikings coach Leslie Frazier told
ESPN 1500
that his staff wasn't even asked its opinion about the brief before it was filed.
From Bills offensive coordinator Curtis Modkins: "Our entire staff had no prior knowledge, nor were we consulted that the amicus brief was being filed on behalf of the coaches. We support Mr. (Ralph) Wilson."
Frazier, meanwhile, was asked about his reaction when he heard about the brief: "Surprised. Just wondering how that came about and wondering why our team wasn't contacted. I wondered ... just how many teams were contacted. But just really, in a lot of ways, it doesn't pertain to us because we had no say in it as a staff."
So, that's at least seven teams that have come out against the brief, and I don't see anybody who's currently working in the league who will announce their support for the NFLCA's brief anytime soon. Which makes you wonder. Who does the NFLCA actually represent in this matter? Because it certainly doesn't seem to be the coaches.
For more NFL news, rumors and analysis, follow @cbssportsnfl on Twitter and subscribe to our RSS Feed.