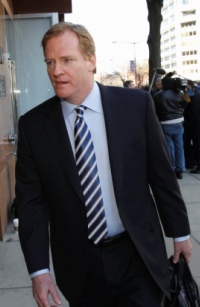 Posted by Josh Katzowitz
The
Charlotte Observer's
Joe Person caught up with commissioner Roger Goodell today at Fort Bragg in Fayetteville, N.C., and perhaps predictably Goodell said he's optimistic about the latest (
not-so-secret!)
labor talks.
Goodell was coming off three days of meetings with the NFLPA in Chicago, and the first question he took during a fan forum was from a soldier who couldn't understand why the league had such a tough time splitting $9 billion.
He gave his typical answer about protecting the game and blah, blah, blah (he probably threw something in there about how this can't be solved through litigation), but Goodell later said he was confident the two sides were on the right track to finding a lockout solution (in case you need
a timeline to what's been happening,
we've got you covered).
"I think both sides want to continue the dialogue, and I think that's a positive thing," Goodell said, via Person. "The importance is to have the principles talk. That's what we were interested in doing is having the owners and the players talk to one another. That was accomplished this week."
And since Person covers the
Panthers
, he couldn't resist giving a little Carolina quarterback news, via coach Ron Rivera.
With the Panthers needing to add a veteran QB to help the progress of No. 1 pick
Cam Newton
(and
Jimmy Clausen
, I suppose), Rivera said that person could be former Panthers starter
Matt Moore
.
"Here's a guy that was slated to have a good opportunity to be the starter," Rivera said. "And unfortunately, things didn't work out for him. So we've got to look at that as well when we get to that point."
For more NFL news, rumors and analysis, follow @cbssportsnfl on Twitter and subscribe to our RSS Feed.