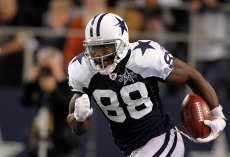 Posted by Ryan Wilson
Cowboys
wide receiver
Dez Bryant
said recently that he had "a handle" on a money situation that appeared to be spiraling out of control. As CBSSports.com's Will Brinson
wrote Sunday
, Bryant has been "
sued by local jewelers
, gotten
in a tiff with mentor Deion Sanders
, been
banned from a mall for wearing saggy pants
and
absent from team workouts
, and
the Cowboys have expressed general concern with
what he's been up to this offseason."
Turns out, Bryant's view of his financial affairs isn't shared by the people he remains indebted to. ESPNDallas.com's Calvin Watkins
writes Monday that Bryant
"still owes Colleyville jeweler and ticket broker Eleow Hunt a little more than $600,000 for jewelry, tickets and personal loans."
Whoever you blame for the current labor silliness, one thing is for certain: the owners can hold out a lot longer than the players. Partially because they have more money, but also because you seldom read stories of owners dropping 600 grand on "jewelry, tickets and personal loans."
When the Cowboys signed Bryant to a five-year, $11.8 million contract last July, it included $8.5 million in guarantees. That's a lot of coin to dump in anyone's lap, much less a 22-year-old fresh out of college.
The frivolous spending isn't surprising -- it's part of being young and impetuous -- but the owners knew that many players, especially those new to the league, wouldn't heed advice from their agents or union representatives to save money during the lockout. Which means that even players making well into six-figures could be short on funds any month now. Paying for the clothes, the cars, the homes -- for themselves and family members -- adds up quickly. Since banks aren't in business to float interest-free loans, the money has to come from somewhere.
If you want to see football in the fall, this should be good news. Being broke serves as a catalyst to make progress on a new labor agreement, even the players have to make concessions they thought were off the table.
While it seems that Bryant is on the hook for at least another $600K, he sounds like he will be ready to go once the 2011 season begins. "From what I see, my relationship with Mr. Jones is fabulous,"
Bryant said recently
. "The relationship between Big Tony [Romo] and me is great. He believes in me and knows what I can do. If he throws a jump ball, he knows that I will go up and get it."
Compartmentalization is a defense mechanism developed from perpetually being in the spotlight. In that regard -- being able to separate his personal life from his professional life -- Bryant sounds like a seasoned veteran.
For more NFL news, rumors and analysis, follow

@cbssportsnfl

on Twitter and subscribe to our
RSS Feed
.