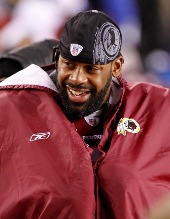 Posted by Ryan Wilson
Donovan McNabb
remains a man without a team. Technically, he's still with the
Redskins
, but as soon as there's a 2011 season, he'll be free to hawk his wares elsewhere. The problem: "elsewhere" could turn into "nowhere." The former
Eagles
first-round pick hasn't drummed up much rumor-mill interest during the lockout. This could mean that teams keen on McNabb's talents are downplaying it for now (as typically happens in the days leading up to the NFL Draft). Or, more likely, there truly isn't a market for him.
Free-agent running back
Michael Robinson
told ESPN.com's John Clayton recently that he predicts McNabb will end up with the
Vikings
.
"[McNabb] keeps telling me all he wants to do is get with a team and take them to a Super Bowl,"
Robinson added
.
There was no mention if McNabb would be willing to go on that Super Bowl ride as a backup, because there are
plenty of teams
(although none are contenders)
looking for
"mentors."
Stats -- the everyday NFL.com ones that we're all familiar with and the advanced stats from
Football Outsiders
and
Pro Football Reference
-- are one way to determine just how good a quarterback is. Another, simpler way: play the "Would I want that guy starting for my team?" game. For most fans, McNabb would garner an "absolutely not," which tells you all you need to know.
It's too bad, too, because McNabb seems like a decent guy. Despite a career
pock-marked by unprovoked criticism
, McNabb has seldom responded publicly. But we've mentioned it before -- that's part of the deal. Want to be an NFL quarterback? Be prepared for the inevitable media backlash that comes with it. And no one's immune. If
Patriots
fans feign outrage over
Tom Brady
wearing a Yankees hat
, McNabb doesn't stand a chance. Also not helping: his recent on-field performance.
The last
two
seasons
, McNabb ranked 20th and 25th in Football Outsiders' QB total value metric. In 2010, he finished behind the likes of
Jon Kitna
and
David Garrard
. Not exactly a ringing endorsement that McNabb deserves to be a starter.
And now, barely a year after the Redskins gave up a second-round pick to division rival Philly to land McNabb, they're happy to move on without him,
even if that means turning to
John Beck
.
Would McNabb be a good fit for the Vikings? Probably not. Minnesota just rid it of one old-timer. While rookie
Christian Ponder
may not be NFL-ready whenever the season begins, McNabb lost his job to
Rex Grossman
. That's shorthand for "he'll never be NFL-ready again … ever." If the Vikings manage their expectations for 2011 and stick with Ponder, they should be in good shape going forward. If they instead buy into the "we're one veteran QB away from the Super Bowl!" hype, Ponder will end up wasting away on the bench.
We don't expect that to happen, thanks largely to the team's recent experiences with Brett Favre, but also because to annually contend for a championship you need a franchise quarterback. For McNabb, that ship sailed a while ago.
For more NFL news, rumors and analysis, follow

@cbssportsnfl

on Twitter and subscribe to our
RSS Feed
.