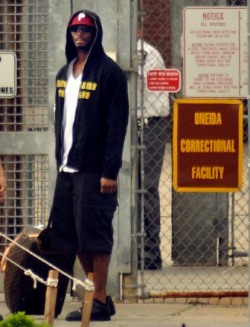 Posted by Josh Katzowitz
Even though the prospect of NFL free agency seems ever so far away, the
Browns
seemingly already know how they're going to play it in the offseason. In a word, conservative.
That's the word from Cleveland GM Tom Heckert, who says (via the
Cleveland Plain Dealer)
that the team will not go after high-priced veteran free agents.
"We're not going to be gung-ho in free agency," Heckert said. "There's a couple of guys that we may be interested in, but it's not going to be enough where it's going to affect how we practice and all of that stuff."
The biggest free agent question mark
this week
is former WR Plaxico Burress,
who was released from prison
a couple days ago after a 20-month sentence and could draw some interest in the free agent market (in all other weeks, we'd ask about
Eagles
QB
Kevin Kolb
, and Heckert also said the Brown aren't going after him either).
The Browns, though, aren't interested in Burress, because Heckert says he's not desperate to upgrade his team's WR corps (I'm not sure I totally agree with him about that).
"We added a tight end and added a fullback that can catch the ball, so I think we did help our receiving as a group," Heckert said. "But if we think somebody can improve us, we'll do it."
It just probably won't be Burress - who's still very tall but will be 34 years old before next season and hasn't played since 2008.
For more NFL news, rumors and analysis, follow @cbssportsnfl on Twitter and subscribe to our RSS Feed.