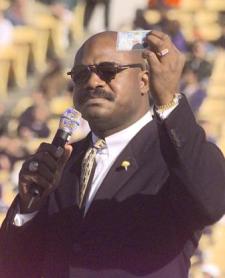 Posted by Ryan Wilson
Player safety is arguably the biggest issue facing the NFL. If the league can't regulate the constant threat of serious injury -- or worse -- out of the game, one long-term possibility (albeit remote
given its current popularity
) is that fans will grow tired of the brutality and professional football will go the way of boxing.
Which is to say: It could become a niche sport, and niche sports aren't multi-billion dollar industries. This should trouble NFL owners more than how to split 10-figure revenues with players.
If you can get past the political grandstanding, player safety was the primary impetus for the sudden rule changes midway through the 2010 season. That said, a few press conferences about reinforcing points of emphasis is a long cry from alleviating concussions and head trauma.
But as
Steelers
wide receiver
Hines Ward
has said
countless times in recent months
, playing this sport is a choice. "I understand where [the league is] coming from, but at the same time, you can't protect football. It's a violent sport. If you want to protect it, we need to play flag football."
That doesn't mean the NFL shouldn't explore ways to reduce head injuries, or that medical research about the effects of 300-pound guys running full speed into each other shouldn't continue, just that there are inherent dangers in this line of work.
Which brings us to
49ers
Hall of Famers Joe Perry and John Henry Johnson. Perry was 84 years old when he died this April, and Johnson passed away Friday at the age of 81. The
Sacramento Bee
's Matthew Barrows writes that the former running backs' brains will be examined at Boston University for evidence of dementia-like disease brought on by repeated trauma to the head.
Details via Barrows:
Perry's spouse, Donna, said she suspected Perry was suffering from chronic traumatic encephalopathy. The condition previously had been associated with boxers but has recently been found in a number of ex-NFL players. …

Johnson's daughter, Kathy Moppin, said she is filling out the paperwork to have her father's brain examined. Moppin took care of her father, known as a punishing blocker, for the past nine years. She said his condition affected everything about him, from his memory to his ability to speak and walk.
Barrows notes that chronic traumatic encephalopathy has been detected in more than 20 deceased players, including former
Bears
defensive back Dave Duerson, who committed suicide earlier this year at the age of 50. Shortly before taking his life, Duerson sent a text message to family members asking that
his brain be donated for research
.
The Center for the Study of Traumatic Encephalopathy at Boston University's School of Medicine announced the results in May:
Duerson had brain damage
.
The NFL isn't part of the Boston University study, but it gave $1 million last year and, according to Barrows, has encouraged players to donate their brains for research.
But here's the thing: Everybody's on board with making the game safer. The problem is that the NFL is talking out of both sides of its mouth. Decreeing six weeks into the 2010 season that rules violators will suffer swift, severe penalties was unpopular, but it sent a zero-tolerance message to the players. But the commissioner can't then turn around and prattle on about expanding the NFL season to 18 games because it's what the fans want (even though, you know,
they don't
).
The takeaway? If you ever find yourself questioning someone's motives, it inevitably comes down to one thing: money. The NFL is no different. Thankfully, despite what Roger Goodell might say publicly, fans aren't interested in more regular-season games, and players refused to discuss it during labor negotiations.
As one player told
CBSSports.com's Mike Freeman last month
, "We view it as a health issue and quality of life issue." Which, frankly, is how we should all view it.
For more NFL news, rumors and analysis, follow @cbssportsnfl on Twitter and subscribe to our RSS Feed.