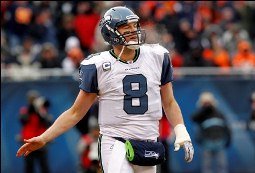 Posted by Ryan Wilson
Matt Hasselbeck
may not be long for Seattle, but whatever professional fate awaits him, it's hard to argue that he's not a leader. When healthy, Hasselbeck has been the
Seahawks
' starting quarterback every year since 2001, and he led the team to a Super Bowl appearance in 2006.
Currently a free agent, Hasselbeck is still organizing team training sessions during the lockout. Doug Farrar,
writing for SportsPressNW.com
, says that Hasselbeck ran Friday's workout "with a sense of order and command that exhibited his value beyond stats and plays to his team."
There's a sense among some in the media that once the labor issues are resolved, the Seahawks will choose not to re-sign Hasselbeck and instead
move forward
with
Charlie Whitehurst
at quarterback. That doesn't mean there won't be a market for him, though.
Sports Illustrated
's Peter King and Jim Trotter think that Tennessee is a "sensible" landing spot; the
Titans
will jettison
Vince Young
before the season, and it would be both cruel and inhumane to throw rookie
Jake Locker
into the starting job with no OTAs or minicamp -- and possibly an abbreviated training camp.
For now, though, the Titans, like many teams around the league, are making the best of an imperfect situation. Players held unofficial workouts at a Nashville high school Wednesday, and Locker was there to meet many of his teammates for the first time.
"He's got a lot of expectations on his shoulders, but for him to come in here and take command is, you know, pretty cool," Titans wideout
Marc Mariani
said after practice.
The NFL Network's Steve Wyche was on hand and noted that not only is Locker trying to learn his playbook without the assistance of Titans coaches, he's also trying to get on the same page with a lot of new faces.
There's no way of knowing what plans -- both immediate and long term -- the organization has for Locker, but running back
Chris Johnson
seems to think Tennessee's offense will feature the rookie first-rounder whenever the season starts.
"Everybody knows [Jake's] going to be the starting quarterback so he needs to be ready come Game 1," Johnson told the media after the workout. "So he's just trying to get ready."
If the Titans decided to sign Hasselbeck, he would face many of the same challenges as Locker, but with the benefit of 13 years of NFL experience.
Wyche's colleague, Jason La Canfora, said on Wednesday's
NFL Total Access
that "Tennessee would make a lot of sense (for Hasselbeck) … who has ties to key figures in that front office: (general manager )Mike Reinfeldt, (VP of player personnel) Ruston Webster. … And most importantly, he's already mentored Jake Locker, who was at the University of Washington. They have a working relationship. … Hasselbeck could come in, start right away, and help Locker progress."
It's too early to predict how this all plays out, but this much is certain:
Kerry Collins
ain't interested in being a nursemaid
. Hasselbeck is a good fit given his history with Locker, even if it's a one-year stint to bridge the gap between
the old franchise QB
(Vince Young) and the new one.
For more NFL news, rumors and analysis, follow @cbssportsnfl on Twitter and subscribe to our RSS Feed.