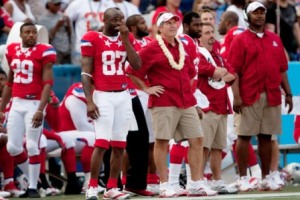 Posted by Josh Katzowitz
Two years ago, the NFL experimented with the timing and location of the Pro Bowl, playing the game a week before the Super Bowl in the same city as the Super Bowl (Miami). The next year, the Pro Bowl was back at Hawaii's Aloha Stadium (and, incredibly,
watched by a large number of people)
.
The one-year absence didn't scare first-year Hawaii governor Neil Abercrombie, who's come out and said he doesn't want to honor the $4 million deal the state has to pay the NFL in order to play host to the game this year and next.
"You can't do things like give 4 million bucks to a $9 billion football industry and not give any money to children," Abercrombie said, via the
Tribune News Service.
"You've got this spectacle of these multimillionaires and billionaires out there arguing about how they're going to divide it up, and then they come and ask us to bribe them with $4 million to have a scrimmage out here in paradise.
"We've got to get our values straight and our priorities straight."
The game remains incredibly popular in Hawaii (when the NFL took the game to Miami, it broke a 30-year streak of sell-outs in Hawaii), and it continues to give the state a solid return on its $4 million investment. According to tourism officials, last year's Pro Bowl attracted 17,000 visitors the state, and the game created $28.15 million in tourist spending and $3.07 million in state taxes.
And I'm sure if the NFL waived the $4 million fee, Abercrombie would be happy to welcome the Pro Bowl back into his state.
Former Honolulu mayor Mufi Hanneman – who negotiated with the NFL to keep the game in that city – said the game is an economic booster. Abercrombie knows of another way to raise funds, though – same-sex civil unions.
"We'll get more out of civil unions in a weekend then we'll get out of those guys," he said. "We're going to market. Don't worry about marketing."
For more NFL news, rumors and analysis, follow @cbssportsnfl on Twitter and subscribe to our RSS Feed.