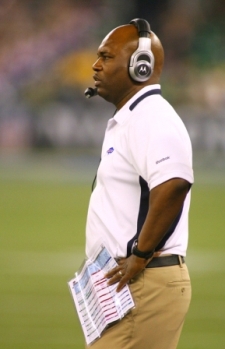 Posted by Josh Katzowitz
A few months ago, after
Giants
defensive coordinator Perry Fewell had gone 0-for-4 on landing a head coaching job in the offseason, Fewell felt fine about his position in the NFL.
He didn't wonder if he had taken over for Leslie Frazier as the hot new Rooney Rule token interview. In fact, he felt as if the Rooney Rule helped him get his face and his ideas in front of the executives who hire head coaches – not just those who needed new coaches immediately, but for the entire league.
And just because the
Browns
job went to Pat Shurmur and the
Broncos
job went to John Fox and the
Panthers
job went to Ron Rivera and the
49ers
job went to Jim Harbaugh – all of them beat out Fewell for those respective positions – that doesn't mean Fewell feels hopeless.
Instead, Fewell – who was in charge of a Giants defense that ranked No. 7 in the league last year (after it was No. 13 in 2009) – is a confident man.
His attitude hasn't changed. Fewell still feels pretty good about his spot in the NFL.
"I know now, probably more so than ever, that I'm ready," he told the
Newark Star Ledger.
"I'm prepared to lead a club and an organization and a football team into battle on Sundays to win a Super Bowl. I learned a lot about administration and organization and preparation as far as the interview process is concerned."
Not only has Fewell steadily improved New York's defensive ranking, he also has true proof that he can be a successful head coach. In 2009, the
Bills
fired Dick Jauron midway though the season, and they elevated Fewell – the defensive coordinator in Buffalo – to the interim head coach position.
Almost miraculously, Fewell led the Bills to a 3-4 record during the final seven games, giving his head coaching profile a huge boost. It was a wonderful performance by Fewell, and though the Bills passed him over in order to hire Chan Gailey, Fewell suddenly became a legit candidate.
Obviously, he went undefeated in NOT getting a new job this offseason.
But like Frazier before him, Fewell eventually will land his head coaching job. And it will have had nothing to do with the Rooney Rule.
For more NFL news, rumors and analysis, follow @cbssportsnfl on Twitter and subscribe to our RSS Feed.