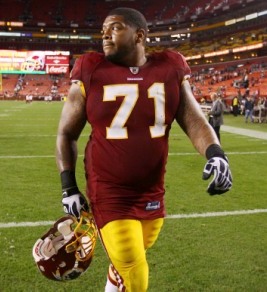 Posted by Josh Katzowitz
Since players across the NFL have begun participating in workouts organized and led by their peers, we haven't heard much in the way of criticism against those who have not joined in with their teammates.
WR
Chad Ochocinco
doesn't show up for
Bengals
practice, and nobody makes a peep. WR
Braylon Edwards
misses
Jets
workouts, and he doesn't hear criticism.
But when
Redskins
LT
Trent Williams
failed to show for workouts this week, at least one of his teammates had something to say about it.
"We're here so we think it's valuable," G
Kory Lichtensteiger
told the
Washington Examiner.
"I don't know why everyone else doesn't. I know some people have to book a plane flight, but we have rookies here that are booking plane flights and first-year guys that don't have a lot of money in the bank booking plane flights. So I don't think there's a whole lot of good excuses not to be here, honestly."
Williams has an excuse regardless.
In an interview with
ESPN 980,
Williams claimed he thought the camp was for backs and wide receivers. Oh, he's got another excuse as well. He didn't find out about the camp until it was too late.
"I feel like it's a big deal," Williams said. "If I wouldn't have found out Monday that the workouts were Tuesday, then I probably would have been there. It was a last-minute deal."
So yeah, those excuses seem rather flimsy, especially when you take into account the questions about his work ethic. But Williams wasn't done making them.
From the
Washington Post:
Reached by phone Wednesday, Williams said that he has been training with roughly a dozen players in his hometown of Houston. He said he considered attending this week's workouts, but decided not to go because he was in a wedding last weekend, which would have interfered with travel plans.
"I kind of had my hands tied," Williams said. "But I figure as long as I'm getting work in and am making sure I'm ready. I've been trimming down a little bit, focusing on total body strength, and I started back [doing squats] this offseason, which I hadn't done since my sophomore year, to get my explosiveness in my legs back. I feel great."
But if you ask TE
Chris Cooley
, none of that really matters. Williams can show up or not, and it's not a big deal.
"Everyone has their own preparation and own thing going on," Cooley told the
Examiner.
"We're not going to be disappointed in anyone not showing up. All I would say is that I'm benefiting from this; I feel this is making me a better player and this is preparing me to play this year."
For more NFL news, rumors and analysis, follow @cbssportsnfl on Twitter and subscribe to our RSS Feed.