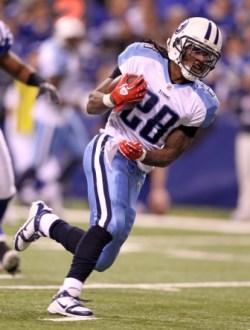 Posted by Josh Katzowitz
Titans
RB
Chris Johnson
is unique among the rest of the league's backs. During the past two years, nobody has carried as many times as he has -- 674 combined attempts -- and though his stature (5-foot-11, 190 pounds) and his biggest assets (speed and quickness) don't seem to mesh with a guy who carries the ball an average of 20.1 times per game, Johnson has continued his strong play despite so much work.
Yes, last year was a disappointment by his standards. He wanted at least 2,000 yards for the second-straight season, but he finished with 1,364. But you still have to consider him one of the best backs in the league.
Another byproduct of so many carries is the inevitable question about how long this RB can take this many hits and remain healthy and effective. Johnson is only three years into his career, and already -- after he finished fourth in the league in rushing, mind you -- people are already discussing this very issue.
New Tennessee offensive coordinator Chris Palmer doesn't believe it, though.
He told the
Tennessean
that he'll keep an eye on Johnson's workload, but he also points to the fact that Johnson broke 41 tackles last year (second-best in the NFL) that Johnson is fine with the extra carries.
"Again, it's something we'll have to look at," Palmer told the paper. "The good thing is (Titans head coach) Mike Munchak has been with him for a while and knows him pretty good. We've talked about different personnel groups, and some of those personnel groups would have Chris out.
"How much we're going to use those during the season, only time will tell. But Chris Johnson is one of our playmakers and we'd like to get as much out of him as we could."
To help alleviate some of Johnson's workload, remember that the Titans drafted 233-pound power back
Jamie Harper
in the fourth round in April. Palmer has said he absolutely will use Harper.
So, while we might not see Johnson have a legit chance at topping 2,000 yards again, the Titans are planning to use him in mostly the same way as before. Yet, it makes sense for Palmer and Munchak to ease off Johnson a little bit, because, at some point, those carries (and the hits that come with him) are going to add up and make Johnson less effective.
That's just the way it goes for a running back in the NFL.
For more NFL news, rumors and analysis, follow @cbssportsnfl on Twitter and subscribe to our RSS Feed.