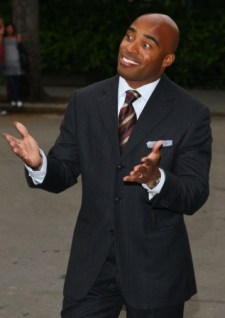 Posted by Josh Katzowitz
Tiki Barber
– the
formerly depressed,
formerly pretty darn good
Giants
RB – wants to return to football after a four-year absence -- and according to
Sports Illustrated's
Peter King, Barber doesn't want to be an afterthought. He wants to start.
King writes that he has a feeling that Barber will end up with the
Steelers
, in part because Pittsburgh coach Mike Tomlin is a family friend. But unless Barber somehow figures out a way to halt the aging process, it seems rather unlikely that he would beat out
Rashard Mendenhall
for the starting spot.
"I crafted this career, right?" Barber told
HBO's Real Sports
in an interview that will air Tuesday. "And I had gotten to the point where I was right where I wanted to be and then I failed. It's hard to deal with. … [But] I need to prove to myself that I can be successful at something. I know I'm going to be successful as a football player. I don't know why. The odds say 'No.' I'm 36 and I haven't played in four years. But I just know."
Lest you forget, Barber had an impressive run of success when he decided to retire from football. In six of his final seven years before leaving the game after the 2006 season, he rushed for at least 1,000 yards (and at least 1,500 in his last three years; he also led the league in yards from scrimmage in 2004 and 2005). But that was, in NFL terms, a very long time ago.
There's only a slim chance that Barber could be anywhere near that successful – and make near that much money, which seems to be the point of this entire exercise – once he returns.
And if for some shocking reason, Barber's comeback doesn't work out the way he wants it, he'll go away quietly and not
compare himself again to Anne Frank.
Because the last time he chose that comparison, that didn't work out well for anybody.
For more NFL news, rumors and analysis, follow @cbssportsnfl on Twitter and subscribe to our RSS Feed.