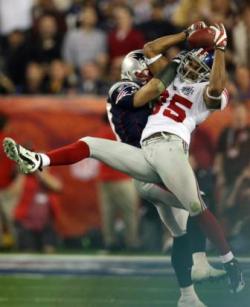 Posted by Josh Katzowitz
You remember how we told you about former
Giants
WR David Tyree and his belief that same-sex marriage was a sin? Well, actually he didn't say the word "sin," but he did say that allowing gay men and women to wed
would lead us to "anarchy."
This is obviously a hot topic, especially in New York where the state legislature will decide whether to allow same-sex marriage, possibly today. So the
NY Daily News
caught up with Tyree and asked him if he would trade his greatest catch in Super Bowl XLII in order to stop same-sex marriage.
"The catch was a gift, it's not like I'd try to do it," he said. "I couldn't do it again so that was a miracle. There's nothing worth more than [maintaining heterosexual marriage] right here for me."
The
Daily News
then asked if he would trade his Super Bowl title to stop gay marriage.
"Honestly, I probably would," he said, "Nothing means more to me than that my God would be honored. Being the fact that I firmly believe that God created and ordained marriage between a man and a woman, I believe that that's something that should be fought for at all costs.
"So I'll lay down everything I am to preserve the honor and integrity of the God that I serve."
One might think, with opinions like that, the God that Tyree serves is somewhat intolerant, but in an interesting twist, Tyree also said he doesn't oppose recognizing same-sex unions. As in, he wouldn't mind if those couples received benefits.
Said Tyree: "But to call it marriage is not something I would ever agree with or think that our government has the right to change the definition of marriage when it didn't start here."
For more NFL news, rumors and analysis, follow @cbssportsnfl on Twitter and subscribe to our RSS Feed.