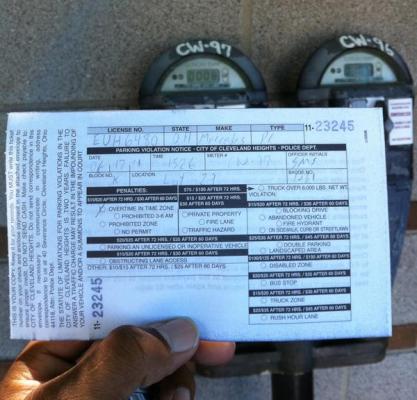 Posted by Josh Katzowitz
In this lockout season when players are saving their money (
maybe)
and taking part-time jobs, it pays to fight the man if you feel like you're getting ripped off.
Browns
WR
Josh Cribbs
might be taking it to a new level, though.
Last Friday in Cleveland Heights, Ohio, Cribbs walked to his car in a metered parking space only to find a ticket underneath his windshield wiper for having an expired meter. The problem? Cribbs says his meter had 8 minutes remaining (as you can see by the photo above).
Wrote Cribbs on his
Twitter account:
"Police in cleveland heights just wrote me a ticket & my meter had time left wow..smh can u say not Guilty lol."
Although the ticket cost $15, Cribbs has decided to contest it where he'll have to pay $50 for the right to appeal it. Even though he called the charge a "scam," he's going to buck the system anyway.
Wrote Cribbs: "I'm going to fight it 4everybody who gets a parking ticket b4 the meter expires & can't fight it bc of the court cost!!"
While this potential court case probably isn't as important as the one winding its way through the Eighth Circuit Court of Appeals, this one actually might be more exciting to talk about.
Photo courtesy of Josh Cribbs.For more NFL news, rumors and analysis, follow @cbssportsnfl on Twitter and subscribe to our RSS Feed.