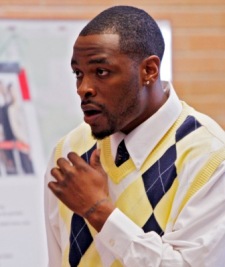 Posted by Josh Katzowitz
When
Broncos
CB
Perrish Cox
was charged with sexual assault last year, Douglas County (Co.) judge Susanna Meissner-Cutler
refused to make sealed documents open to the public.
We knew he
had been charged
with a Class 3 and a Class 4 felony, meaning it was possible Cox, if found guilty, could spend life in prison. But we didn't know much else.
On Wednesday, though, Douglas County judge Paul King said he will unseal the arrest affidavit that holds evidence against Cox and it will be available in seven days (nobody seems sure, though, if that's seven business or seven calendar days).
"Concerns about the potential harm to the right of the Defendant and the People to obtain a fair trial, should the affidavit be released, can be addressed through certain preventative measures taken during the trial process," King wrote in his ruling, via the
Denver Post.
"Public policy weighs in favor of access to and the release of the record as opposed to the continued sealing of the document."
That's not to say we'll get to see EVERYTHING. King ruled that the information about the alleged victim, as well as one of her friends, be redacted from the released report.
But good work by the
New York Times,
the
Denver Post
and the Associated Press -- all of which fought for the report to be unsealed. The prosecuting attorneys, the defense attorneys and the alleged victim's attorney had fought to keep the report private.
Cox has been charged with sexual assault on a helpless victim and sexual assault on a victim incapable of appraising her own condition. Allegedly, the attack happened in September, though the woman didn't go to police until nearly two months later. Cox's trial is scheduled for October.
For more NFL news, rumors and analysis, follow @cbssportsnfl on Twitter and subscribe to our RSS Feed.