Posted by Josh Katzowitz
A couple of weeks ago,
Bengals
LB
Dhani Jones
unveiled
his top-10 list
of the best linebackers in the NFL, and, somehow, he seemed to forget about
Bears
LB
Brian Urlacher
. That's because Urlacher wasn't on it, though Jones found it in his heart to rank himself No. 7.

In an interview with the NFL Network discussing his rankings, Jones said Urlacher simply couldn't get off a block anymore.
Which leads us to an interview with Urlacher today on ESPN 1000 (via
ESPN.com)
in Chicago.
Basically, Urlacher said he didn't really care what Jones thought but still managed to work in a couple of nice jabs.
"I think we were drafted in the same class, right? Is he a 2000 guy? I haven't heard anything about him since then," Urlacher said. "I saw him on a TV show with a bow tie on though. So I know him better for how the way he dresses than what he does on a football field. Guys are going to talk. I've definitely had a lot worse things said publicly from guys, so I can live with it."

Later, he was asked if he was pretty pumped to go to London when the Bears play the
Buccaneers
across the Atlantic.
"No, I'm not excited to go to London," he said. "I don't understand why they do that. ... I am not excited to go to London, I will say that. I can't imagine many players would be, considering the travel involved and disruption to their weekly schedule."
Now, what would happen if Jones and Urlacher were on the same flight to London? Chances are the two would throw down, and as a result, bow ties and fish and chips would be scattered everywhere across the airplane. Only then would Jones think about putting Urlacher back on his top-10 list.
Or if you'd like to see the Tale of the Tape in a visual scene, check out the work done by Eye on Football's Ryan Wilson.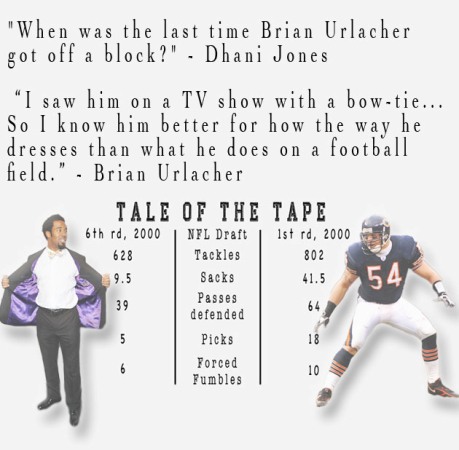 For more NFL news, rumors and analysis, follow @cbssportsnfl on Twitter and subscribe to our RSS Feed.