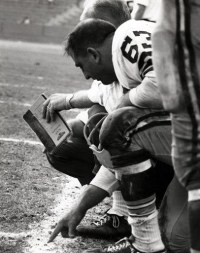 Posted by Josh Katzowitz
Former
Packers
OG Fuzzy Thurston, who won Super Bowls with Vince Lombardi in Green Bay in 1966 and 1967, will lose his Super Bowl II ring when the government sells it at an auction to recover part of the $1.7 million the government says he owes in back taxes.
This comes according to the
Green Bay Press Gazette
, which writes that the government also wants to auction his Super Bowl I ring, as well as the NFL championship jewelry from 1958, 1961, 1962 and 1965. The government, though, apparently hasn't recovered those items yet.
According to the
Press Gazette
, the Super Bowl II ring could sell for $20,000. The
Associated Press
reports that other rings from Super Bowls I and II have sold in recent years; running back Paul Hornung's Super Bowl I ring fetched about $40,000 in 2002, and former offensive lineman Steve Wright sold his Super Bowl I ring in May for $73,409.
More details via the
AP
:
Messages left at Thurston's Waupaca home weren't immediately returned. Green Bay lawyer Owen Monfils, who represented Thurston in some of his tax cases, told the Green Bay Press-Gazette he was certain Thurston didn't owe "nearly as much as the government claims."

The tax fight stems from Thurston's post-Packers days, when he and his business partners opened a chain of restaurants. According to a federal complaint, Thurston and the others withheld federal income taxes from employee salaries but failed to turn all the money over to the Internal Revenue Service.

After a court fight, Thurston was ordered to pay about $190,000 in 1984. With interest, the debt now stands at just over $1.7 million, according to court documents.
"We hope to reach out to fans who might wish to purchase the material to return it to Thurston," said Chris Ivy, the director of sports auctions at Heritage Auctions of Dallas.
It's certainly a sad moment for a former Pro Bowler.
But I like the idea presented by the
Boston Globe's
Greg Bedard, who formerly covered the Packers for the Milwaukee paper. Wrote Bedard on Twitter: "It will take about 2 min for a Packers fan to bid on Fuzzy's ring and give it back to him. Favre should do it. Start the healing. Seriously."
For more NFL news, rumors and analysis, follow @cbssportsnfl on Twitter and subscribe to our RSS Feed.