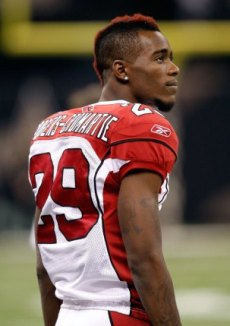 Posted by Josh Katzowitz
The
Cardinals
, without question, need a quarterback for 2011. The
Eagles
, without question, would like a cornerback to play opposite
Asante Samuel
.
So, what would make more sense than a trade for Eagles QB
Kevin Kolb
and Cardinals CB
Dominique Rodgers-Cromartie
?
And with all the rumors, started by a Philadelphia radio station, that have occurred the past couple days linking these two teams together for an impending trade, it almost seems like the swap is just about complete.
Except it's not, according to
Arizona's official website.
Writes Darren Urban: "To begin with, the Cards, who have been looking to solidify their third cornerback spot, finally seem to have that lined up with (Patrick) Peterson, DRC and
Greg Toler
. That becomes an issue all over again if DRC is dealt. Peterson hasn't even proven he can play cornerback yet – remember, there are some who think he'll be better suited as a safety, a la
Antrel Rolle
– and giving up the team's best current corner is a pretty big risk in today's pass-happy NFL. Also, for whatever DRC's faults might be, his resume is still more complete than Kolb."
And so continues the idea of Kolb as the biggest potential acquisition of the offseason. But, like Urban, I don't see why the Cardinals would make this move, especially since nobody really knows if Kolb is any good. That's the point that's baffling to me. Kolb has started seven games in his career and has thrown more interceptions than touchdowns. Is that enough to know for sure? Would you want to give up one of your starting cornerbacks to take a chance that Kolb is that much better than
Derek Anderson
or
John Skelton
or, if the Cardinals go the free agent route,
Marc Bulger
?
I don't see why Arizona would take that chance. It doesn't sound like the Cardinals will.
For more NFL news, rumors and analysis, follow @cbssportsnfl on Twitter and subscribe to our RSS Fee