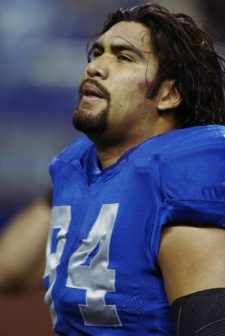 Posted by Josh Katzowitz
The NFLPA, even in the face of a lockout that hopefully will be over next month, will conduct a rookie symposium today in Bradenton, Fla., and the key piece of the advice will be NOT TO BE STUPID WITH YOUR FREAKIN' MONEY!!!!
According to Alex Marvez of
Foxsports.com,
the rookies will attend a 90-minute seminar in which they will learn to be prudent in the way they spend their salary the first couple of years in the league. In fact, they'll be advised not to make any big financial decisions or spend any significant amount of money for, at least, their rookie season.
"These players have a tendency to get approached by a lot of people, family and friends," Karl McDonnell, the COO of Strayer University, told Marvez. "We've actually drafted a letter they can use that says, 'I'm going to take the next year getting used to being in the NFL. I'm not going to make any major commitments,' just to give them a little breathing room.
"One of the things we want these young players to realize is the decisions they make in the next 1-2 years are really going to impact their lives forever. We want them to get off to a good start."
After the NFL canceled its annual symposium because of the lockout, the NFLPA took the liberty of scheduling one on its own. It's estimated that about half of the incoming rookies will attend.
Honestly, that's probably very disappointing to the trade association -- and I think
CBSSports.com's
Mike Freeman would agree -- since, as Freeman reports, the NFLPA would pick up all rookies' travel costs.
Especially when they could hear from a former player like Luther Ellis, a first-round pick for the
Lions
in 1995 who squandered $20 million during his 11-year career and had to file for bankruptcy in 2010. Ellis (pictured at right), who will speak at the symposium, points to his rookie season as the beginning of his downfall.
"The biggest thing that took us down the path of bankruptcy was being overextended to the point that I was counting on future earnings that didn't happen and being involved in businesses that I shouldn't have been involved with," he said. "As good as the opportunities maybe seemed, if I would have put that money aside and just earned a modest interest rate of 6-7 percent, I'd be so much further ahead right now. And then I would have had the chance to sit back and look at what are the real opportunities, my personal passions, my wife's personal passions and (decide) the things we want to be involved in. It would have changed our whole future."
If I might add my two cents (though I realize I haven't been invited to speak at the symposium and I only had to take one math class in college -- statistics, but I got a B!!!)), here is my advice: Don't buy an expensive car.
When you walk through a NFL players' parking lot, you see a ton of fancy rides; and one of the guys who played for the
Bengals
who we knew could least afford a six-figure car, was the one who had multiple cars of that nature. His lifestyle was totally dependent on him staying on a NFL team, and he'll be a real question mark to make a squad this year.
Don't buy something that loses so much of its value when you drive off the lot. Just don't buy an expensive new car right away.
"Really it comes down to discipline of not overextending yourself," McDonnell said. "Anyone who comes into a large sum of money, there's a temptation to do that."
For more NFL news, rumors and analysis, follow @cbssportsnfl on Twitter and subscribe to our RSS Feed.