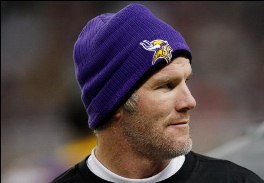 Posted by Will Brinson
Brett Favre is done with football forever. Having
heard him say that
over and over this offseason
, we think we might maybe know that.
And then the venerable Gil Brandt, in a chat on NFL.com, goes and ruins everything by pointing out that he thinks Favre could end up coming back in 2011.
"I do think Favre would be interested in talking to a team about returning,"
Brandt wrote Tuesday
. "But I don't see a team out there right now that would bring him back as a starter."
That's primarily because there are too many quarterbacks with a) less drama and b) less mileage out on the market for the teams in need for a quarterback.
If you're a team like oh, say, the
Vikings
and
you want to bring in a veteran
to push and mentor
Christian Ponder
, the last person you want is Favre. Not only has he shown that he's typically unwilling to take a role as a backup, but there's plenty of unwanted drama that comes with No. 4.
In the end, even though we'll still be forced to mention Favre rumors for the rest of the offseason, that'll probably be the case with
every
team around the NFL, barring some unforeseen circumstances.
For more NFL news, rumors and analysis, follow

@cbssportsnfl

on Twitter and subscribe to our
RSS Feed
.