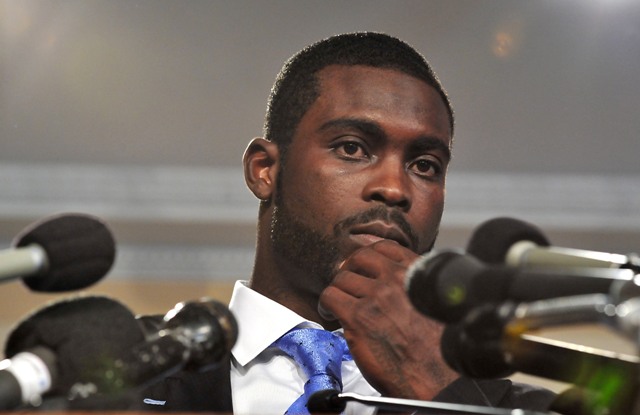 Posted by Josh Katzowitz
Eagles
QB
Michael Vick
visited Washington Tuesday, lobbying legislators to pass an act that has grown near and dear to Vick's heart.
It's called the Animal Fighting Spectator Prohibition Act, and, according to the
Daily Caller,
it "would apply federal criminal penalties -- fines and up to one year in prison -- to anyone attending or bringing a minor to an animal fighting event."
Now, you might think that Vick is the LAST person* who should be talking about animal fighting (you do remember why he went to prison, yes?). But since he's become a free man again, it seems that Vick has been an outspoken backer of all things good, whether it's serving as a high school commencement speaker and
giving out $5,000 college scholarships
or trying to convince those in prison
to change their ways.
*Vick, though, HAS become quite the endorser as of late.
But maybe that's why Vick, who's teaming up with the Humane Society on this issue, feels so strongly about this piece of legislation. After all, he was deeply involved in the dog fighting scene, and he's seen (and participated in) the most despicable acts a human can commit on a canine.
He wants those who can be punished to be punished hard (kind of like he was, I suppose).
"I was a major part of [animal fighting]," Vick said, according to the website. "I know the game in and out. It won't stop unless there is major change. It will continue to evolve and grow."
Said Humane Society president Wayne Pacelle: "If you just criminalize the practitioners, you're missing 98 percent of the people involved in the enterprise,"
When asked why he was involved in this piece of legislation, Vick said (via the
Philadelphia Daily News)
: "I'm doing it for myself. I'm doing it for the Humane Society. I'm doing it for the animals, and I'm doing it for all the people out there who are involved, because there's so much more that you could be doing with your time. There's so many animals that could be raised in better households and used as pets and having happy homes instead of being used for pointless activity and being harmed. It took for me to go through what I went through to understand ... the magnitude of the entire situation. I've learned so much as time went on.
"Too many kids get involved in dogfighting, and it's time to break this cycle. Animal fighting is a dead-end road for the young men, and there's nothing but terrible outcomes for the dogs placed in a pit to fight. Since my case came to light, the laws against animal fighting have been upgraded, and here's another opportunity to strengthen the law and establish an even stronger deterrent."
I know people who hate Vick -- will always hate Vick -- for his crimes against dogs, but at what point do you look at Vick and say, "Well, he's trying to make things better?" Can those dog lovers ever forgive?
For more NFL news, rumors and analysis, follow @cbssportsnfl on Twitter and subscribe to our RSS Feed.