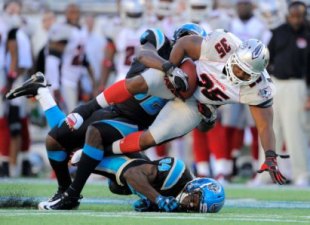 Posted by Josh Katzowitz
When the lockout first began, the UFL naturally wanted to take advantage. After all, minor-league pro football is better than no pro football at all, right? And if that is the case, you can see why it would be smart of the UFL to try to create some new fans, especially if the NFL lockout lasted into the preseason or (gasp!) the 2011 season.
Except that's not going to happen. 1. The NFL lockout, from all indications, is close to being over. 2. The UFL doesn't have the financing to … um … well … you know … start the league schedule on time.
Those are two big problems, especially the latter, because it calls into question whether the UFL is a viable league heading into the future. On Tuesday, the commissioner of the UFL, Michael Huyghue, sent out a letter that reads in part:
Dear Fans,

Today we announced that the 2011 United Football League season will now kickoff in mid-September as opposed to August 13 as originally announced. At the conclusion of last season we announced that we would play in August because we believed then, and now, that playing in August provides a compelling opportunity for us to offer meaningful games during the NFL preseason. At the time we could not have predicted that the uncertainty of the NFL and NBA lockouts would create a destabilizing, negative impact throughout the professional sports industry.

The uncertainty that gripped pro sports delayed many essential business agreements until late in the offseason. In order to provide the product that UFL fans have grown to expect after two seasons we decided it was in the best interest of our fans, our players, our staff and our brand to push back kickoff. Our ownership group, our staff and the entire UFL family remains committed to providing a great 2011 season.

Players and coaches had arrived in our cities to prepare for the season. Many of them will now depart for a few weeks at league expense. We will announce a new training camp and season schedule shortly which will provide a timeline for their return. Some players and coaches will remain in our cities to help market their team.
Basically, the league doesn't have enough money to play games right now.
I suppose it's a positive sign that the players (like RB Bobby Rome and Joe Clermond, who's trying to tackle him in the picture above) and coaches don't have to find their own way home and that they'll be reimbursed for their travel fares. Plus, to be fair, the league hasn't started playing games until mid-September since it was established two years ago. But Las Vegas Locomotives coach Jim Fassel told Sporting News radio (via
Pro Football Talk
) that the UFL didn't have a handle on how potential free agents would respond to the NFL lockout.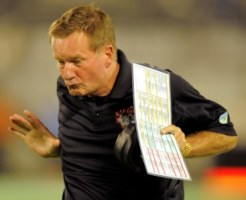 "We all thought that the NFL, with their issues, this would be an advantage for us," Fassel said. "And it's not. It's confused a lot of issues, with players and everything else. We talk to players and it's, 'Well, I think I'll sign with the NFL, and if I don't, I'll sign with your league.'"
Yet, doesn't this snafu call into question the existence of the league this year (and forever)? Well, the
National Football Post
has obtained a letter from Randy Ball, the Locomotives director of player personnel, to player-agents that states the league WILL play this season.
But back to the commissioner's letter. Blaming the NFL for the UFL's shortcomings? I'm just not sure I buy that. What I do buy is that it's nearly impossible for any other pro football league to compete with the NFL, no matter how it's marketed (if it's EXTREME! or an "NFL minor league" or "if Donald Trump says it can work"). Aside from the American Football League in the 1960s, it just doesn't happen.
The UFL might survive this season and live to play another year. But long-term viability? Right now, it's just hard to see how it'll last.
For more NFL news, rumors and analysis, follow @cbssportsnfl on Twitter and subscribe to our RSS Feed.