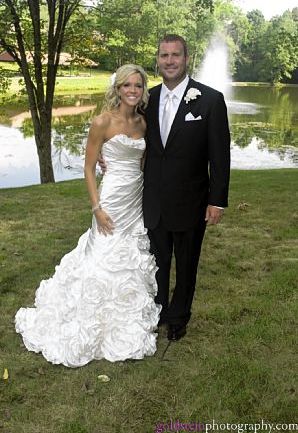 Posted by Josh Katzowitz
Ben Roethlisberger
married his fiancé, Ashley Harlan, Saturday, and the
Pittsburgh Post Gazette
gives us a detailed report with how exactly how the ceremony and reception proceeded.
So, a quick Q&A session so you can get all your "Roethlisberger is married?!?" queries answered without you having to search too hard.
How many people were at the wedding?
About 600.
Was Steelers LB James Harrison there?
You know the guy who told Men's Journal that Roethlisberger should "stop trying to act like Peyton Manning. You ain't that, and you know it, man. You just get paid like he does."
Yes, Harrison reportedly was in attendance.
Did the two engage in fisticuffs?
No.
If they did, who would win?
I would pick Harrison in a second-round KO. Except Roethlisberger is hard to bring down. So, the ref would probably have to stop the fight with Roethlisberger dazed and leaning against the ropes.
Were the wedding colors black and gold?
No, it sounds like the drapes that the reporters could see were cream with gray and pink accents, while "the ballroom featured a silver, ivory and blush pink color scheme."
How 'bout those centerpieces?
From the article, they were "created from locally grown phalaenopsis orchids, roses, hydrangea and peonies in shades of ivory, white and blush pinks." Sounds pretty, eh?
Were workers at the reception site allowed to carry cell phones?
No.
If the over/under on the bridal party was set at 16, how should I bet?
Over. Apparently, it was a 21-person bridal party.
If the over/under on the amount of tiers on the wedding cake was set at five, how should I bet?
Over. It was a six-tiered vanilla bean buttercream cake.
Most important question. What was on the dinner menu?
Filet and halibut from the Common Plea restaurant (for my money, one of the best restaurants in Pittsburgh).
Second-most important question. Where is the happy couple honeymooning?
They're not. You know why, though, right?
Because football is almost here.
Photo courtsey of Goldstein Photography.For more NFL news, rumors and analysis, follow @cbssportsnfl on Twitter and subscribe to our RSS Feed.