Posted by Josh Katzowitz
How about this sight for those who were desperate for football to be over? NFLPA executive director DeMaurice Smith and NFL commissioner Roger Goodell standing shoulder to shoulder in front of the podium outside the NFLPA headquarters on Monday.
Smith said some nice things about Goodell, and Goodell was about to say some nice things about Smith. And after Smith introduced Goodell to the assembled media, the two shook hands and smiled. It was a beautiful sight.
Four months earlier, Goodell and Smith stood near each other in Washington and gave separate pressers, and we didn't know when we'd have football again. But all that's forgiven now (though not necessarily forgotten). We have football -- 10 years of labor peace -- and after a summer of misery, we finally have a payoff.
"Football is back, and that's great news," Goodell said. "Having a 10-year agreement is extraordinary. Everybody worked hard, everybody had a passion. This agreement is going to make our game better."
And if you've paid attention at all in the past few months, you know those are sweet words. But it wasn't an easy process. We got to watch how the sausage is made, and it was not a pleasant experience.
All along, we heard people talk about how the relationship between former commissioner Paul Tagliabue and the late union leader Gene Upshaw made the game strong and, for the most part, kept the labor peace while they were in charge of their respective sides. We wondered about the relationship between Smith and Goodell and whether it was strong enough to hold. We wondered if Smith was in over his head. We wondered how unified the players really were. We wondered if the NFL owners were content to blow up the game just to show the players that they were the bosses.
Goodell and Smith wouldn't let that happen, though. Their relationship apparently
is
strong enough to keep the two sides from spinning away from each other into lockout infinity.
"If we don't have a good relationship, it hurts the game and the business of football," Smith said. "I'm proud to say our relationship has grown. Even up until the last minute, it required us to come together and get the job done. That will be our relationship going forward.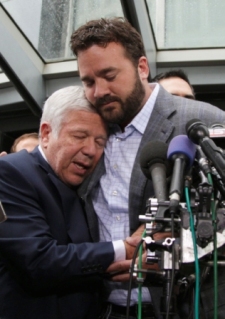 Said Goodell: "We have trust that we're both in there to do the best we can for football. You can't reach a 10-year deal without that. He's a great leader for his players. He never lost his passion. We listen to one another, which is important. We have respect for our various consituents. The players, under his leadership, have done an extraordinary job."
But the one who was embraced the most Monday was the man who's suffering the terrible loss of his wife, Myra, to cancer.
Patriots
owner Robert Kraft -- one of the most well-respected owners in the game -- was engulfed by love. Not just from his owner colleagues and his commissioner, but by the other side as well.
"We couldn't have done it without you," Smith told him. "We took a day off on Friday to remember a great woman and a great family. I'm thankful for what she meant to the city of Boston and especially thankful for what you mean to the game of football."
Colts
C
Jeff Saturday
took it a step further. After paying a nice tribute to Myra Kraft, who allowed her husband to help save football even when she was dying, Saturday stepped away from mic and embraced Kraft in a big hug.
Smith and Goodell had shook hands and smiled for the cameras. But Saturday and Kraft showed their love for each other.
It was, simply put, a touching moment on an exciting day for a man who's lost so much in the past week. And while fans and players can be excited that they've got back their game -- and while Smith and Goodell provided their own beautiful moment -- Kraft's resiliency in finishing the bargain while he was experiencing so much pain provided the true inspiration of the day.
Even during one of the most trying times of his life, he was helping to restore the game you love. And everybody should be thankful for that.
For more NFL news, rumors and analysis, follow @cbssportsnfl on Twitter and subscribe to our RSS Feed.