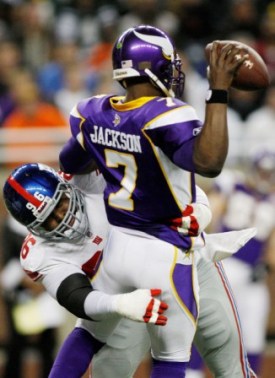 Posted by Josh Katzowitz
When the
Seahawks
lost touch with QB
Matt Hasselbeck
and
decided instead
to bring in
Tarvaris Jackson
, it made sense that he would battle with backup
Charlie Whitehurst
and then eventually beat him out for the starting spot.
Except Jackson doesn't have to worry about the competition any more. At least for now. Seattle coach Pete Carroll announced Saturday morning that the No. 1 job belongs to Jackson.
Considering Jackson is well-versed with former Minnesota offensive coordinator Darrell Bevell, who now runs the Seahawks offense, that's a big advantage Jackson holds over Whitehurst (there's also the matter that Jackson has started 20 games in his career, as opposed to Whitehurst's two).
"In this situation, to make it the most competitive for our team, Tarvaris needs to be our starter right now," Carroll told reporters, via Rapid Reporter John Boyle, writing for the
Everett Daily Herald
. "He comes in as our starter, he's going to own that position until Charlie and the next couple of fellows at that spot get a chance to catch up, and then the competition will begin from their end.
"Things changed during this offseason ... The more we saw it coming, the more we realized we needed continuity and we needed continuity we could generate in a very short amount of time, and without question as a staff across the board, we realized that because of our background in our offense with Tom and Darrell coming together, if we could capture Tarvaris into this thing, who has been with Darrell for five years, we could hit it running full speed."
That's not to say, though, that Whitehurst couldn't compete and then take the starting job away from Jackson.
"This is just a competitive decision because of the timeframe that we're dealing with," Carroll said. "It's strictly that. This is not the purely competitive situation I would like it to be, but the other side of it, I think that to compete for our team, this is the right thing to do. So that overrides the individual. Charlie, as soon as he can get caught up, then I can say, 'Charlie, the competition is dead on, let's go. Let's see where you sit with us.'"
For more NFL news, rumors and analysis, follow @cbssportsnfl on Twitter and subscribe to our RSS Feed.