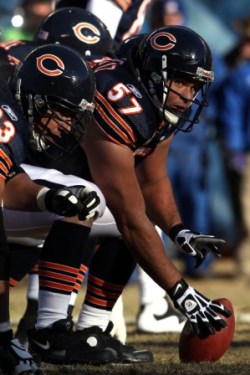 Posted by Josh Katzowitz
Earlier today, we told you about the
difference in opinion
between the
Bears
and longtime Chicago C
Olin Kreutz
about how much he was worth. The Bears had offered him a one-year, $4 million deal. Kreutz wanted $4.5 million, and if possible, a longer term than just one season.
Ultimately, with the signing of former
Seahawks
C
Chris Spencer
(which you could see right here in our
free agent tracker!
!!), the Bears made their decision, saying goodbye to Kreutz and possibly upsetting the chemistry of the locker room.
After the decision, GM Jerry Angelo called it "disappointing," but he also said it wasn't only about the half-million dollar difference.
"It goes beyond ($500,000)," Angelo said. "There's more to it than just the dollar signs. It's a big puzzle and you just can't focus on one piece. It doesn't work that way. It has to come together and we have a lot of things happening at a very fast pace. We didn't have two months to draw things out, to be patient. We have to move now."
There was also some speculation earlier about how the decision to send Kreutz on his way might be a rift between the coaching staff – which apparently loves Kreutz -- and the front office.
Reese, though, didn't like hearing about that theory.
"I resent the fact that something was written that said there is a divide," Angelo said. "Regardless of what anybody says, that's not true. That's a lie and it's fabricated and I resented that when I read that. That to me was dirty pool. We talk about everything. Do we agree on everything? Absolutely not. You don't agree on everything with your wife. How I'm going to agree with 18 coaches and 15 scouts? It doesn't work that way.
"But at the end of the day, we've got to make a decision and we all agree on one thing, once we make a decision, we're all for it. We're going to make it work. That's what teams do. So we talk through it. Very difficult. Things were said. We weighed them. We did the best. We had an offer. We bumped our offer. We did the very best we could. So now we're going to just let t he chips fall where they may and we're going to move forward."
This might end up leading to Kreutz -- who's been in the league for 13 years, all with the Bears, and is a six-time Pro Bowler -- possibly ending his career.
"Jerry has been good to me too. He's given me a lot of money and I've been there a long time," Kreutz told the Tribune
in this story
. "It felt like maybe it was time to move on. I just got that feeling. If I was right, if I was wrong, if the offer was fair. I have enough money. So the offer wasn't a big hurdle for me. It was a feel I had, just maybe they wanted to move on no matter what the offer was.
"At this point in my career, the offer of money is not a big deal to me. It's just a feel I had. I don't want to taint anyone. Both sides have won since I've been here. I've won. They've treated me good. They've given me everything I've asked for and I think I've played my ass off for them."
For more NFL news, rumors and analysis, follow @cbssportsnfl on Twitter and subscribe to our RSS Feed.