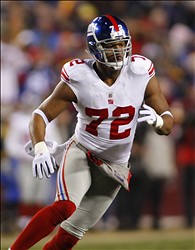 Posted by Josh Katzowitz
When we first heard that
Giants
DE
Osi Umenyiora
was on the trading block, the rumor made sense. Umenyiora wants more money and more years on a contract that New York didn't want to give to him. So, the Giants would trade him, get something in return and everybody would walk away happy.
Until we read the report from
CBSSports.com's
Clark Judge about what the Giants apparently wanted. A first-round pick in return for the rights to Umenyiora, which, honestly, seems overpriced at best and ridiculous at worse.
One day later, the Giants have apparently dropped their price. According to the
Baltimore Sun
, the Giants are now sending out feelers that Umenyiora could be had for the low, low price of a second-round pick.
As we wrote about Tuesday,
five teams appear interested
in Umenyiora (including the
Ravens
,
Rams
,
Chargers
,
Seahawks
, and
Broncos
, while another report also had the
Patriots
interested as well), though none were intrigued enough to take New York's original first-round bait.
The Ravens, though, might be interested in dealing a future second-rounder. The
Sun
reports that some within the Baltimore organization are urging GM Ozzie Newsome to make the deal, though he remains unsure of Umenyiora's injury history and whether the team could actually afford him (remember, this whole thing started with the Giants because Umenyiora wants to get paid big-time money, and that won't change if and when he's dealt).
Apparently, some of this depends on DT
Haloti Ngata
, who would be one of Umenyiora's mates on the defensive line if this deal comes to fruition. The newspaper writes that if the Ravens can agree to a new multi-year deal with Ngata, that would free up some salary cap room for the team and mean they could fit in Umenyiora. If not, though, the Ravens probably won't make a play for him.
So, what will happen? We don't know. Especially if the Giants
haven't
dropped their first-round demand. As the
New York Daily News
writes, "I can only tell you what I think I know, and at this point it's that the Giants are holding strong on their demand of a first for Umenyiora. Things, though, tend to change fast."
For more NFL news, rumors and analysis, follow @cbssportsnfl on Twitter and subscribe to our RSS Feed.