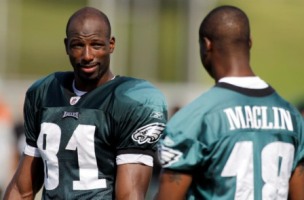 Posted by Josh Katzowitz
In April, we told you that
Eagles
WR
Jeremy Maclin
– a member of the so-called
Dream Team
in Philadelphia – had lost about 15 pounds after dealing with a
"mono-like illness"
but then had recovered to gain back about half of that weight.
Said Maclin at the time: "It was off and on. I went for a week where I felt good, and then all of a sudden the feeling would be back."
Which leads us to Wednesday's report in the
Philadelphia Inquirer
which states that Maclin hasn't yet practiced this training camp* because he's dealing with an unspecified illness.
*As is evident in the picture to the right as Maclin talks to Jason Avant; it's evident because Maclin is not wearing shoulder pads.
"He's not done with his tests so the doctors are still looking at a few things," Eagles coach Andy Reid said. "He's up here, he's in good spirits, he looks good. He's able to do some conditioning things. ... From what he's gone through it looks like he's in good shape."
The paper also writes that Maclin is noticeably thinner than he was earlier this offseason when he participated in player-led workouts -- he's listed, by the way, at 198 pounds. Maclin won't speak to reporters until he begins practice.
That, according to the paper, might not be very soon.
If you'll recall, Maclin missed some time
last training camp
due to a knee injury and then a shoulder problem, which prompted our own Andy Benoit to write, "One criticism of Maclin as a rookie was that he lacked toughness and was hesitant to take on contact." Though we don't know what the illness is and how much it's impacting his ability to practice, Maclin's inability to stay healthy won't help that kind of reputation.
That's probably an unfair indictment on Maclin, but that doesn't mean it's untrue.
For more NFL news, rumors and analysis, follow @cbssportsnfl on Twitter and subscribe to our RSS Feed.