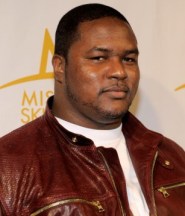 Posted by Josh Katzowitz
Say this for former
Vikings
T
Bryant McKinnie
: if
he really was cut
because he apparently weighed close to 400 pounds and because of high cholesterol, maybe we should blame Venus Williams.
After all, McKinnie worked out with Williams in the offseason (and took
tennis lessons from her
) and said at the time that he wanted to cut his weight from 360 to 340. Apparently, she's not quite as good at being a personal trainer as she is at winning major tennis titles, because McKinnie certainly didn't report to Vikings camp at 340* (or 360 for that matter).
*Of course, apparently spending $100,000 at a bar in one night doesn't necessarily imply that you're on a major health kick either.
Coach Leslie Frazier tried to be diplomatic today while talking to reporters about McKinnie, who figures to draw interest from the rest of the league assuming his health is OK.
"We made a decision for our organization that we thought was the best thing as we're trying to bring a world championship to Minnesota," Frazier said, via
ESPN 1500
. "In order for us to do that, there are certain things I talked to our team about on that first night, that Sunday night, that we got together as a group and I talked to them about the criteria and what I thought was necessary to win in our league. In order for us to get where we need to go, there are certain things that ha(ve) to happen.
"In Bryant's case, he's been a terrific player for the Vikings. I love him as a person. We've got a great relationship together. But at this point, for all parties involved, I just thought it was the right thing to do, and I'm sure he's going to catch on with a team and he's going to do well. He's a terrific player right now, but for where we are right now and where we're trying to go to, it just wasn't the right fit for the direction that we want to go."
Though Frazier was careful to tip-toe his way through reporters' questions (he never actually admitted that the sole reason for McKinnie's release was because of the weight issue), he wanted to make sure that everybody knew he wasn't trying to send a message to players during his first full season as head coach.
"Not at all," he said. "I didn't look at it that way at all. The only thing I've tried to do from the moment I stepped in this position, from January and even in the interim basis (last season), is to help shape this team into a championship football team. And none of that means doing this to get people's attention -- just handling every situation independently and that's what I've tried to do."
For more NFL news, rumors and analysis, follow @cbssportsnfl on Twitter and subscribe to our RSS Feed.