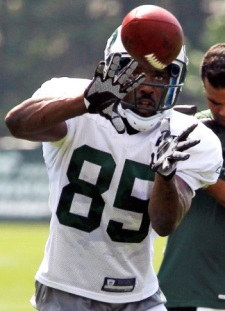 Posted by Josh Katzowitz
Now that 37-year-old WR
Derrick Mason
is with the
Jets
instead of the
Ravens
, he thinks he has a better chance of reaching the Super Bowl with his new team. Well, OF COURSE, he'd say that after Baltimore shocked him by getting rid of him.
"It's the business of football, and I understand it. Was I blindsided? Yeah, I was, and when you're blindsided, yeah, you're upset about it," Mason said, via
USA Today
.
"If you felt that you were going into a situation where you were on the cusp of something special, and you never thought that you would be released, or fired, or whatnot, you would be a little bit upset. But I had my moment. After that, I understood it's the business of football. It happened to me before, and it happened to me again. It happens to everybody in this business, whether you're great at your position or not."
Even after the Ravens released him last month, Mason thought hard about re-signing with Baltimore anyway. But when the Jets came along and offered him a one-year deal with a guaranteed salary of $910,000 (the veteran's minimum), he decided he wanted to rejoin coach Rex Ryan, who was a defensive assistant for many years in Baltimore.
While the Jets WR corps isn't overly-impressive -- the addition of Mason, still a solid player who caught 61 passes for 802 yards and seven touchdowns last season, and
Plaxico Burress
doesn't make up for the loss of
Braylon Edwards
-- it's in a better position than the Ravens, who feature
Anquan Boldin
and a bunch of younger guys who haven't done anything (or had the chance to do anything) at the pro level.
"When you have someone sitting across from you that understands and knows your work, and knows that you can play this game and still play it at a high level and respects that, that means a lot," said Mason. "That's what Coach Rex basically echoed to me: 'You still can play this game. I've seen tape of you last year. You still can play this game at a high level and you can help us.'
"That's all it took, was someone else believing that you could still play this game. So, like I said, why not come down here with the big fella and try to win a championship?"
At least with the Jets, Mason feels wanted. Which seems like the opposite of how the Ravens felt about him.
For more NFL news, rumors and analysis, follow

@EyeOnNFL

on Twitter and subscribe to our
RSS Feed
.