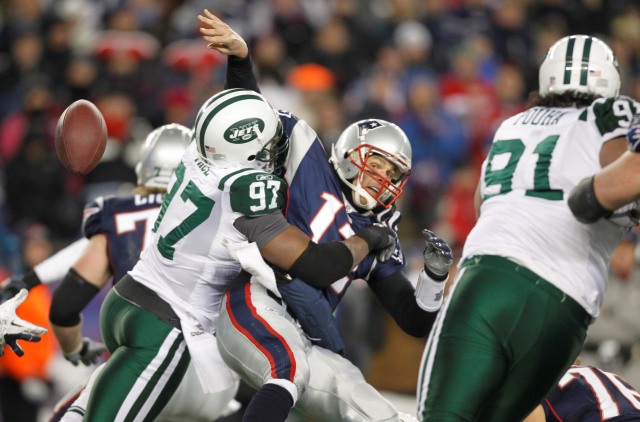 Posted by Josh Katzowitz
For those who think that
Tom Brady
has shaken off the effects of the playoff loss to the
Jets
last season, Brady is here to tell you that the defeat continues to haunt his dreams.
"The Jets, I'll never get over that loss," Brady told WEEI in Boston (via
sportsradiointerviews.com
). "That's as painful of a loss as I think we've ever had here as a team. They can rush the passer. They're a good team. They pressure the quarterback. That's what we have to be prepared for with them. And they always try to find a way to confuse the quarterback, whether that's by pass rush, whether that's by coverage and often times both. We gave them a lot of credit when they won and I think we have to learn from that and understand what it takes to beat good teams under tough conditions. That's what we have to try and accomplish this year."
Yes, but if Jets coach Rex Ryan had his way,
his squad wouldn't be the only ones
beating the
Patriots
.* In fact, he went on a mini-rant about it recently: "I think we have to find somebody out there to beat New England besides us, and I think that would help. Anybody out there that wants to sign up for it? Are you good enough as a team to beat the New England Patriots. Forget about us, are you good enough to go out and beat the New England Patriots? I'm challenging the league."
*This assumes Ryan isn't attacked by his starting quarterback first.
So, you can see why Brady hates to lose to a guy like Ryan, somebody who's got tons of bravado but also can back it up from time to time (as back-to-back AFC title game appearances will attest).
But Brady now has
Chad Ochocinco
on his side. Thoughts about that, Tom?
"With Chad, he's been in a certain place for a long time and … the way he has played the game has been quite a bit different from the way we play the game," Brady said. "I think a lot of that is just trying to get him to understand what I'm thinking."
I love that first line, by the way, about Ochocinco and the
Bengals
. See, Tom, sometimes intimations of insults about another team just happen to slip out. Now maybe, you can start sympathizing with Ryan, and when he says he wants to kick Bill Belichick's ass, he probably means it in the most humble way possible.
For more NFL news, rumors and analysis, follow

@EyeOnNFL

on Twitter and subscribe to our
RSS Feed
.