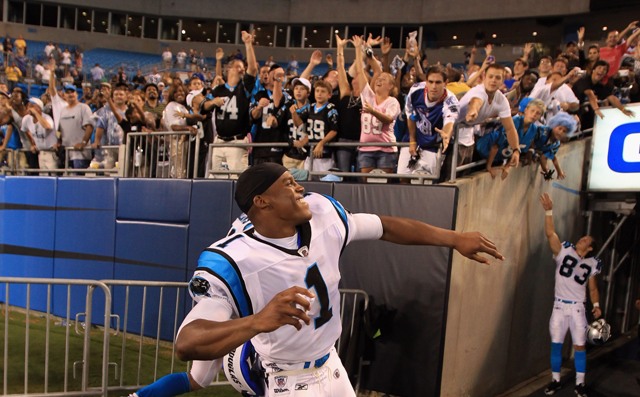 Posted by Eye on Football staffWell, we're a week into the preseason and that means we know everything about everyone. Or nothing at all. Whatever, we got our first glimpses of the NFL's newest rookie quarterbacks and that leads us to the question: What rookie quarterback will help his team the most?
Will Brinson
: Go ahead and cue up about 15 "Panthers homer" comments in the next few paragraphs, but I don't care:
Cam Newton
. The guy's a freak-a-deak athlete with a firehose attached to his right shoulder and he's going to get a chance to produce. Unfortunately, that firehose thing can also be bad if Newton can't control his accuracy. And it's possible that
Jimmy Clausen
-- who looked better than terrible after he threw a pick six on his second passing attempt -- could be the safer option for Carolina. But Newton gets the fanbase amped and he's already shown exponential growth since we last saw him throwing passes. Putting him in the proverbial fire's the way to go and he'll be a difference maker for Carolina in both the stands and the field.
Josh Katzowitz
: Will, I couldn't agree with you more. I don't know if Newton will help his team that much more on the field than Clausen would have -- I'm willing to bet heavily on the odds that there are going to be games when Newton is ABSOLUTELY terrible and people are going to be saying, "Yeah, buddy, the NFL is a little different than the limited offense you ran at Auburn, eh?" (these people, of course, will be Canadians who care way too much about SEC football) -- but as far as starpower is concerned, Newton is the one. I don't care if he privately looks at himself as an entertainer and an icon. He's got that huge smile and he's got that charisma, and eventually, the stink of whatever NCAA rules his dad might have violated will wash away.
That said, I don't think he's going to contend for any rookie of the year honors, because as the season goes along, defenses are going to begin to figure out Newton. Actually, I think the real answer to your question about which rookie will help his team the most will end up being
Colin Kaepernick
in San Francisco, assuming he stays healthy behind that poor offensive line.
Alex Smith
will continue to be Alex Smith, and midway through the season, Jim Harbaugh will call upon Kaepernick to replace Smith and win a few games for the
49ers
. And I think he'll do it, especially in the NFC West, hastening Smith's departure (which, when you think about it, might be the single biggest reason how Kaepernick impacts the team). Newton will help his franchise the most, but Kaepernick will help his
team
the most.

Ryan Wilson
: We talked about it
(at length
, I might add) and Newton was impressive. I know, it's just one preseason game, but the guy's come a long way since February, the Auburn scandal, and the silly comments about being an entertainer and an icon.
And let's be honest, he's energized fans that had every reason to lose all hope and commit their energies to supporting NASCAR full time. That can't be understated. Winning is obviously the goal, but
Panthers
fans will find reasons for optimism if the Panthers can win five or six games. So in terms of therapeutic value for a downtrodden fan base, Newton is this season's most valuable QB.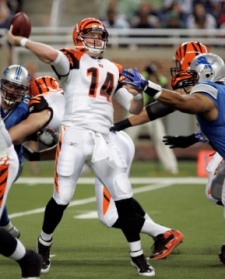 But if we're talking about a QB who has a chance to play and help his team win enough games to battle for a playoff spot, I'm going with
Christian Ponder
. Partly because
Myron Rolle
thinks he's a genius, but also because
Donovan McNabb
has become a punchline in recent years. How long until he's yanked in favor of Ponder? Four weeks? Remember: this is the guy who not only lost his job to
Rex Grossman
last season, he was eventually demoted to third string behind
John Beck
, he of four career starts, all losses, all coming in 2007.
Brinson
: Well, we're one full turn around the table and the only person we haven't talked about is the only guy who's virtually guaranteed to start Week 1:
Andy Dalton
.
So, um, yeaaaaaaah.
What does that say about the
Bengals
? (And why do I have the feeling Josh will try to defend them?) I guess it says either that "We don't respect Andy Dalton," "We forgot about Andy Dalton," or "Even if Andy Dalton was
Peyton Manning
, he wouldn't be saving the Bengals from certain doom in 2011."
Perhaps it's all three?
Wilson
: I didn't mention Andy Dalton for the same reason I don't think about paying my mortgage every day: if I ignore it, it don't exist. It's a coping mechanism. In Dalton's case, it means I'm not constantly reminded of what the 2011 season inevitably holds for him: pain, misery, disappointment -- all words that have become synonymous with the Bengals in recent years.
(Just look what the madness did to even-keeled Carson Palmer -- it drove him right into retirement in what should be the prime of his career. Think about that for a minute. Things were so god-awful in Cincinnati that Palmer would rather sit around the house doing crosswords than get caught up in tiger-striped maelstrom for another season.)
While we shouldn't put too much stock in first-ever preseason performances, Dalton's got his introduction to big-boy football from, fittingly,
Ndamukong Suh
. And I feel that was just a preview of things to come in 2011 (for both Dalton and Suh). So, yeah, it's pretty easy to be down on Dalton, more because he's a victim of circumstance. Which is why I don't want to think about it.
Brinson
: Thanks for the reminder on the mortgage payment, jerk. Speaking of which, if there's one thing that the Panthers, 49ers,
Titans
,
Vikings
,
Jaguars
and Bengals have in common it's that they mortgaged their future on the talents of the 2011 NFL Draft class. With that in mind, let's wrap up this puppy up by making a list -- how do you gents rank the rookies in terms of impact on the 2011 season? Here's mine. Don't copy it.
1. Cam Newton
2.
Blaine Gabbert
3. Andy Dalton
4. Christian Ponder
5.
Jake Locker
6. Colin Kaepernick
7. Ryan Mallet
8. Terrelle Pryor
Wilson
: No matter the list -- or the topic -- one thing is assured: Brinson will put Cam Newton at the top of it. Panthers fan solidarity and whatnot.
Back on Earth...
1. Christian Ponder (He'll be starting before the end of Sept.)
2. Colin Kaepernick (See above)
3. Blaine Gabbert (He'll be starting before Halloween)
4. Cam Newton (The next Jimmy Clausen? JOKE. Clearly, he's the next Chris Weinke.)
5. Andy Dalton (Must've been a serial killer in a previous life to get stuck with this fate.)
6. Jake Locker (Should only play if Hasselbeck gets injured.)
7.
Ryan Mallett
(Bill Belichick is a genius. That is all.)
8. Terrelle Pryor (But he's a first-round pick!)
Katzowitz
: Just in case, Will needs a reminder: Here's my takedown of Mike Brown and Marvin Lewis in that ridiculous news conference they called to announce that
Lewis would return
for another season, and here's what I wrote about the Bengals'
lack of a practice bubble
. I lived in Cincinnati for six years, but believe me when I say that I think the Bengals are an incompetent mess (though, personally, I think Mike Brown is a nice man).
My list (the correct one):
1. Colin Kaepernick (If Mike Singletary thought about replacing Alex Smith with
David Carr
(!) last season, Jim Harbaugh shouldn't have a problem replacing Smith with Kaepernick)
2. Christian Ponder (Because he's better than Rex Grossman, and since Grossman is better than Donovan McNabb ...)
3. Cam Newton (How disturbing would it be if Clausen actually won the starting job?)
4. Andy Dalton (He still has
Cedric Benson
to lean on)
5. Blaine Gabbert (I'm not sure he can beat out
David Garrard
, and I'm not sure Garrard will be bad enough this year to warrant starting Gabbert)
6. Jake Locker (Locker will get tons of help from Hasselbeck)
7. Ryan Mallett (He won't even beat out
Brian Hoyer
to be Brady's backup)
8. Terrelle Pryor (I don't know, maybe, he could be an effective NFL TE?)
For more NFL news, rumors and analysis, follow

@EyeOnNFL

on Twitter and subscribe to our
RSS Feed
.