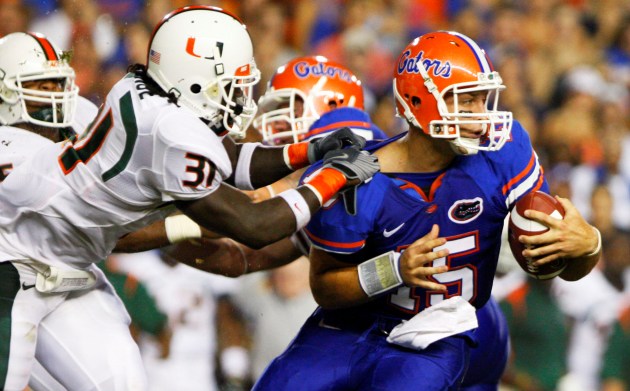 Posted by Josh Katzowitz
One of the interesting aspects of the Yahoo! Sports investigative piece into the
Miami football program
that's blown everybody's minds in the past two days was the alleged bounty placed on the head of then Florida QB
Tim Tebow
.
In 2008, the Gators played Miami, and supposedly before the game, Hurricanes booster Nevin Shapiro put a bounty on the head of Tebow, offering to pay $5,000 to whichever Miami defender could knock Tebow out of the game.
When asked about that Thursday by the Denver media, Tebow smiled at the memory of that game -- a 26-3 victory by the Gators in which he threw for 256 yards and two touchdowns. So, um, basically, the bounty was never cashed in, huh?
"That was a fun game, though," Tebow said, via the
Denver Post
. "My only opportunity to play the Canes. Good memories from that game."
Tebow also said he had friends on that Miami team so he didn't think anybody was deliberately trying to hurt him.
"That's never what you want in sports," Tebow said. "You're playing to win. It's a violent game, people get hit, people get hurt. But to go out there purposely trying to hurt someone, I don't believe in that at all. That's not why we play the game. I don't think the Miami Hurricanes players went out there trying to hurt me. I had quite a few friends on that team as well. I think there were a lot of good players on that team, good kids on that team."
See, that goes to show you, even a ruthless bounty placed on the head of the quarterback of quarterbacks only leads to a 23-point loss hung around the neck of your team. That is the power of Tebow.
For more NFL news, rumors and analysis, follow

@EyeOnNFL

on Twitter and subscribe to our
RSS Feed
.