Posted by Josh Katzowitz
We're big fans of
Colts
owner Jim Irsay's Twitter updates* because he's either tweeting the lyrics to deep track Pink Floyd songs, occasionally breaking news, or reassuring his team's fans about
Peyton Manning
's neck.
*Of course, we are. We named him No. 4 among our favorite NFL tweeters last year.
He's a bit of jokester on
Twitter
, which is why we're assuming (hoping?) that he was kidding when he tweeted this on Sunday, "I'm in Mississippi,down at the crossroads....looking 4 that deal Mr. Johnson cut so many years ago....I'm in Hattiesburg...is it right or left at the Firechief?"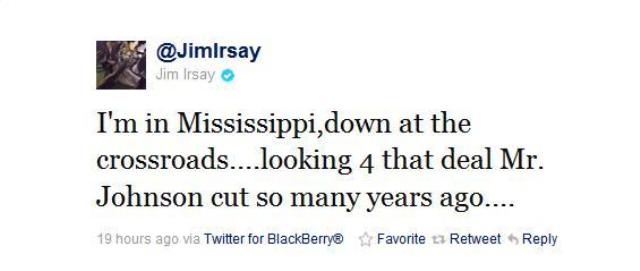 OK, some clarification. Hattiesburg, Miss., is the home of an old-time gun-slinging QB you might have heard about named Brett Favre, who insists that
he's retired
. Considering we don't know when Peyton Manning -- who had offseason neck surgery and hasn't practiced yet this preseason --
will return to action
and considering it'd be hard to stomach either
Curtis Painter
or
Dan Orlovsky
starting the Colts season opener, Irsay and the Colts might be in a tight spot if Manning can't play.
Hopefully, though, Irsay is only pretending to seek out Favre to take over for Manning.
Moving the joke along a little further is Irsay's reference to "Mr. Johnson" cutting a deal. If you're in need of a rock history lesson, Irsay is referring to
Robert Johnson
, the old blues guitarist who supposedly sold the devil his soul at a Mississippi crossroad so he could be a master guitar player. So, in effect, Irsay is saying he's selling his soul to the devil in order to obtain Favre's services.
I didn't think about it at the time, but one of my editors pointed out that the "Brad" in Irsay's second tweet might be refering to Brad Childress, a former Colts assistant coach who, as you know, was Favre's final head coach in Minnesota.
Good stuff. But for now, we'll just assume he's kidding and move on with the rest of our day. Unless Favre, like the devil, is going to put us through eternal hell and keep returning to play.
For more NFL news, rumors and analysis, follow

@EyeOnNFL

on Twitter and subscribe to our
RSS Feed
.