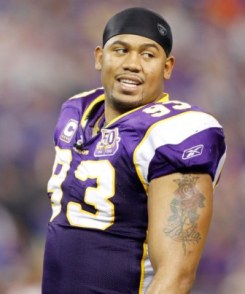 Posted by Josh Katzowitz
It looks like the fallout from the StarCaps case* finally will end, and it might have given way to a completely new way to punish those who test positive for drugs.
The
St. Paul Pioneer Press
is reporting that
Kevin Williams
will have his original four-game suspension for violating the league's substance abuse policy reduced to two games, because, in this new (still hypothetical) system of punishment, the NFL could suspend those players either for two games or for six games.
*Which gave reporters a tiny intro into legal reporting before the lockout hit and made us all reach for our law review books.
In April, a Minnesota court ruled that the NFL could proceed with the suspension of Williams (and former
Vikings
defensive tackle
Pat Williams
and
Saints
defensive end
Will Smith
), who had tested positive for a banned diuretic that was not listed in the ingredients of the StarCaps weight loss supplement he had been taking.
Which, at this point, should be OK with Williams.
In May, he claimed
he was at peace
with the court's decision, saying, "With all this (lockout stuff) going on, maybe (the NFL will) forget about it and we can go on with our regular work. If it happens, it happens. I found a great place to work out in Little Rock. I'll be there getting ready and see you in Week 5, if that's the case."
Funny thing, the NFL
didn't
forget it, but it sounds like the league is willing to go a little lighter on his suspension as well.
The reason for that, writes the
Pioneer Press
, is because, while the NFL and NFLPA meet to figure out if the union will accept HGH testing, the two sides would implement that new punishment system for positive drug tests -- two-game suspensions for diuretics and six games for steroids.
Since Williams fits into the former category, he automatically would go from four to two.
-In other Kevin Williams news, the
Pioneer Press
writes that he has plantar fasciitis and will miss the final two preseason games.
"Everything's good, though," Williams said. "Just trying to take some precautions, find out exactly what's going on. I'll be ready for the season. It's nothing bad."
Asked if he'd be ready to play in the season-opener against the
Chargers
, he said, "I'll be there."
For more NFL news, rumors and analysis, follow

@EyeOnNFL

on Twitter and subscribe to our
RSS Feed
.