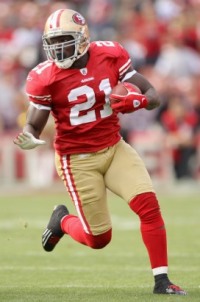 Posted by Josh Katzowitz
While we detail the comings and goings of
Chris Johnson
-- first he's in Florida, then he's in Nashville, then he's in Florida with no new deal -- a running back who desperately wants a new contract and is nearly as important to his team is actually
in
49ers
camp. He's just not very happy. And he's apparently not very pleasant to be around right now.
One team source told
CSN Bay Area
that
Frank Gore
is frustrated and has snapped at some of the team's assistant coaches as he continues to wait a new contract offer.
Gore is scheduled to make $5 million this season, but after that, he's a free agent and he wants to get paid. He accumulated four-straight years of 1,000-yard seasons from 2006-09 before missing five games due to a fractured hip last year. Plus, he's 28 years old, meaning he doesn't have much time left in his prime as a running back.
Although Gore originally threatened
to hold out
from training camp -- just like like somebody else we know in Tennessee who
actually did it
-- he's been working out and playing in the preseason games.
That's also a sore point with Gore, because he feels like he's playing more in the preseason than in years past, and since it's a contract year, he's claiming the 49ers are putting him at greater risk for injury. The flip side to that, though, is San Francisco could want to see how his hip is responding to game action.
Gore also has the same problem as Johnson because even if he wants a trade from San Francisco, it's unlikely to happen, because the cost to another team would be too great. Even if he was traded, his new squad would have to come up with a lucrative new deal. At this point, that's probably impossible.
Gore's Inconvenient Truth
So, the two sides will continue to meet.*
*Which doesn't impress CBSSports.com's Pete Prisco. Wrote Prisco on Twitter today: "So Frank Gore will meet with 49ers? Hey, Frank. They ain't paying you. … Gore and Johnson should have a meeting and repeat after me: We are just running backs."
"The best thing we can say is we're doing everything we can to make Frank a 49er for life and whether that gets accomplished in the near future or not remains to be seen," 49ers general manager Trent Baalke said this week.
Well, that doesn't tell us much, does it? How about it, Frank? What if you don't get that extension?
"I'd be upset, but I'm still a football player," Gore said. "I want to be here for my whole career. That's up to upstairs, the team. If they want me here, I want to be here. I'm just going to come out every day and practice hard."
And hopefully control his temper with the coaches.
For more NFL news, rumors and analysis, follow

@EyeOnNFL

on Twitter and subscribe to our
RSS Feed
.