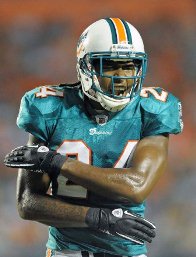 Posted by Josh Katzowitz
Earlier this week,
Dolphins
cornerback
Vontae Davis
had something interesting to say about his status in the league. After leading the team with 12 passes defended last year, Davis was ready to declare that he and
Sean Smith
are the top cornerback unit in the NFL.
"I'm going to go out on a limb and say we're the best tandem in the league," Davis told the
South Florida Sun Sentinel
.
Wait, wait, wait. You can't possibly mean that Davis and Smith are better than the
Jets
combo of
Darrelle Revis
and
Antonio Cromartie
, right? After all, as the paper points out, Revis and Cromartie "have a combined 32 interceptions and four Pro Bowl berths to Davis' and Smith's five and none respectively." Surely, Davis didn't mean he and Smith are more productive than Revis and Cromartie. But no, Davis wouldn't back down from his theory.
"You name them all and I'm putting it out there," he said.
When told about that hypothesis, Revis pointed to proof that, in his mind, made clear that Davis was incorrect.
"He's got to play a couple more years before he's saying all that," Revis said, via the
New York Post
. "They're a good tandem but they have a lot of work to do. … It really don't matter because the film don't lie. The film don't lie. You can say what you want to say. You can say the sky is red, but it ain't red. That's just what it is. We know how we play and we know what we do on that field not just as a corner tandem but as a secondary. We play great football."
And of course, Revis is probably right, particularly since Smith (pictured above)
lost his starting job
for a time last year to
Jason Allen
. But this season might provide a new challenger to Revis and Cromartie as the top tandem in the league. And it's not Smith and Davis. Nope, it's the
Eagles
trio of
Asante Samuel
,
Dominique Rodgers-Cromartie
and
Nnamdi Asomugha
. That would be my answer if somebody asked me about the best cornerback unit in the league.
Obviously, it's not time yet for Smith and Davis to acquire that title, but, as we learned last year, Smith and Davis are
usually a little late to the party
anyway.
For more NFL news, rumors and analysis, follow

@EyeOnNFL

on Twitter and subscribe to our
RSS Feed
.