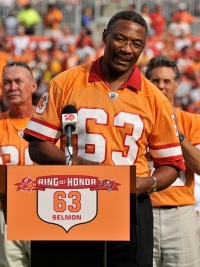 Posted by Josh Katzowitz
There's been plenty of conflicting information surrounding NFL Hall of Famer Lee Roy Selmon, who
suffered a stroke
Friday night, and his latest condition.
This morning, the
Tampa Tribune
reports that Selmon is improving and showing signs of responsiveness. Which is great news, considering the confusion of Friday.
At one point Friday, his restaurant group released a statement, saying, "Deep and profound sorrow that we learned of our dear friend Lee Roy Selmon's passing this afternoon." Apparently, the restaurant prematurely released that news, because, according to the
Tribune
, he is listed in critical condition Saturday morning.
As the Trib writes, "KFOR-TV, an NBC affiliate in Oklahoma City, reported that Lucious Selmon told a former teammate he didn't think his younger brother was going to make it. Lucious Selmon said the family was told Selmon had a 20 percent chance of survival with brain damage. KFOR also reported that Selmon's niece, Shannon, sent an email to family members that said her uncle had a blood clot in his heart."
Said David Lewis, Selmon's former teammate: The family is leaning on their faith and nobody has more faith than Lee Roy. Things like this can turn and they can turn for the best. That's what I'm hoping and praying for.
"He has too much to live for. There's no doubt in my mind that he has achieved his eternal salvation, but I want more time with him. He's my brother. I think he's going to be strong. Dewey is strong. Lee Roy's son is strong. I just want him to keep getting better.''
Selmon was inducted into the Hall of Fame in 1995 after a standout nine-year career playing for the
Buccaneers
.
For more NFL news, rumors and analysis, follow

@EyeOnNFL

on Twitter and subscribe to our
RSS Feed
.