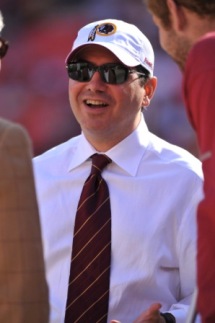 Posted by Josh Katzowitz
Though the
Redskins
didn't release the information until Saturday night -- on the day before the season opener no less, where they were hoping it would slip silently into the night -- we, along with the rest of the Redskins scribes, want to make sure you know that the free press has won a battle against Washington owner Daniel Snyder.
In a release on the
Redskins website
, the team announced that he has dismissed his libel lawsuit against the
Washington City Paper
.
Here's the statement from team spokesman Tony Wyllie: "The lawsuit was pursued as a means to correct the public record following several critical factual misstatements in the
Washington City Paper
article. In the course of the defendants' recently filed pleadings and statements in this matter, the
Washington City Paper
and its writer have admitted that certain assertions contained in the article that are the subject of the lawsuit were, in fact, unintended by the defendants to be read literally as true.
"Therefore, we see nothing further to be gained at this time through continuing the lawsuit. We prefer to focus on the coming football season and the business at hand.
"We remain committed to assisting with responsible reportage of the team and the many people involved in our organization, including Dan Snyder, and the principle that the truth and the facts matter in responsible journalism has been vindicated."
Snyder originally sued the paper and Dave McKenna
for $2 million
, because McKenna had written a tongue-in-check story called "
The Cranky Redskins Fan's Guide to Dan Snyder
," where a picture of Snyder with hand-drawn horns and facial hair was featured.
It was a ridiculous action taken by Snyder -- who said all he wanted was an apology (he, of course, didn't get one, which was why he sued in the first place).
Here is part of the paper's statement in response to Snyder dropping the lawsuit:
From the beginning, we have believed that Snyder's lawsuit was a baseless one, designed to intimidate a journalist and a publication that have been among his most persistent critics. We've also argued -- in our pages, and in court -- that our article never said any of the allegedly libelous things Snyder claimed it did. As we defended ourselves, we got unprecedented support from loyal readers who donated thousands of dollars of their own money to help us protect our rights. And we were fortunate to have an ownership group who understood the stakes and stood by us. We're confident that the court would have seen things our way, too, thanks to the strong laws the District of Columbia has in place to protect free speech. But we're also glad that it won't have to go that far.

City Paper is a small news organization with limited resources, and defending ourselves against this lawsuit has cost massive amounts of time and money, well beyond the $34,308.91 that readers have contributed to our legal defense fund. Despite those costs, we are proud that we never wavered or allowed ourselves to be bullied, ultimately leading Snyder to dismiss his case. Though the District's anti-SLAPP law says courts "may" have awarded us some of our litigation costs had we pursued them, we concluded that it wasn't worth spending substantially more money, energy, and attention for what would have only been a chance of recovering a portion of what we've spent.

Today, we got what we wanted all along: dismissal of a case expressly designed to pressure us, and filed by a man who now apparently says he never even read the story in the first place.
And good triumphs over silly lawsuits.
For more NFL news, rumors and analysis, follow

@EyeOnNFL

on Twitter and subscribe to our
RSS Feed
.