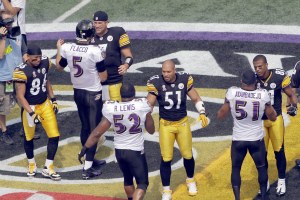 Posted by Josh Katzowitz
When people talk about the dirtiest players in the NFL,
Steelers
receiver
Hines Ward
is usually somewhere in the conversation. This might be
one reason why
. As is Pittsburgh linebacker
James Harrison
-- who can't seem to go more than a dozen games without some kind of big fine because of
an illegal hit
.
So, for the Steelers to accuse another team of playing dirty, it's akin to William Henry Harrison admonishing you for not wearing a coat when it's cold and rainy outside (what? too soon?).
But dirty is exactly how Pittsburgh believes the
Ravens
played last Sunday during Baltimore's four-touchdown embarrassment of the Steelers. And they point to the Ravens offensive linemen as the main culprits.
"You can get hurt from an illegal chop block, but I guess it isn't an illegal chop block if they don't call it," nose tackle
Casey Hampton
said, via the
Pittsburgh Tribune Review
.
Added nose tackle
Chris Hoke
: "Some of the things they were doing were questionable rules-wise and dangerous."
In particular, Hampton pointed at Baltimore guard
Marshal Yanda
as one who continuously tried to cut-block Hampton. That includes the first play of the game when Hampton said he was blatantly chopped by Yanda, which helped set up a 36-yard run by Ravens running back
Ray Rice
. In all, Hampton said his legs were targeted on Baltimore's first four running plays.
"There is really nothing you can do when you are engaged and fighting with a guy and they come chopping at your legs," Hampton said. "If it keeps happening, something is going to have to happen. I can't keep getting chopped up like that when I am engaged."
Yet, the Steelers go on to admit that they have plays in their offensive arsenal in which part of the goal is to cut at an opponent's legs. "Not to the extent that (the Ravens) did," Pittsburgh defensive end
Aaron Smith
said.
Obviously, cut-blocking is dangerous and somewhat cowardly. But this is not a new problem. As the Steelers say, every team does it (I remember that the
Broncos
offensive line for years was accused of dirty play and cut-blocks). That doesn't make it right, obviously. But you can't be vigorously against cut-blocking when it's targeting you and be totally cool with it when you use it against an opponent.
Otherwise, your claims of the other team being dirty don't make very much sense. And don't elicit much sympathy.
For more NFL news, rumors and analysis, follow

@EyeOnNFL

on Twitter and subscribe to our
RSS Feed
.