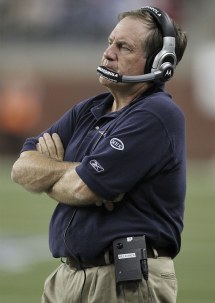 Posted by Josh Katzowitz
While watching the first part of the NFL Network's fascinating documentary of Bill Belichick that was filmed during the 2009 season, I decided to jot down my favorite Belichick moments. Though you wouldn't know it by his actions and his comments during the football season, if you see him in informal settings, Belichick actually has a personality.
It's hard to imagine if you just watch him during his cold, emotionless in-season press conferences. But get him out of the media room, and he becomes a funny, interesting individual.
That said, here are the top-five quotes from Belichick during the documentary that showed Belichick in a light in which he rarely is seen -- as an actual human being who has emotions and a pretty good sense of when to unfurl some nasty trash talking.
-While talking to Jon Bon Jovi (!) during training camp, Bon Jovi basically asks, So, what's the deal with that Rex Ryan?" Said Belichick in a way that almost could be construed as not hating Ryan: "I think he'll get his guys to play. I think they'll play hard for him."
This is funny in retrospect, because this was before Ryan said he wouldn't kiss Belichick's rings and before Ryan beat Belichick in the playoffs last year. But Belichick was right. Ryan's team does play hard for him.
-Here's Belichick, while meeting in the pregame with the refs before
Tom Brady
takes his first preseason snaps after his knee surgery in 2008.
Says one official: "We'll keep everybody safe." Responded Belichick: "Take good care of (Brady). Hopefully we can block them." Then, making an aside comment to Brady, "The only thing I can cheer for in Philadelphia is the national anthem."
-During a preseason game,
Julian Edelman
looked fantastic in returning a punt for a touchdown. Immediately, Belichick sought out
Wes Welker
-- who was injured and not playing not that day -- and decided to poke some fun at him.
"You ever hear of Wally Pipp?"
Said Welker: "No."
Belichick: "He played before Lou Gehrig. He missed one day, and Gehrig played the next 23,000 games (Ed. Note: this was either a mistake or a slight exaggeration). That might be the punt return story."
Welker: "No doubt, he can have it."
Belichick: "There you go. Way to compete."
-When a reporter, playing off the Ryan "kiss your ring" comment, asked Belichick during a media teleconference if anybody had ever
actually
kissed his Super Bowl rings.
Belichick laughed but played it like normal: in other words not willing to give the scribes a morsel of interesting information.
"Um," he said, "I don't think so."
"Where are your rings?"
"Uh, they're in a box somewhere."
-And my favorite moment of the documentary? It came when
Ravens
receiver
Derrick Mason
talked trash to Belichick in the middle of a game the
Patriots
would win.
"F--- you Mason," Belichick said. "Just shut the f--- up. Can you look at the scoreboard?"
See the video below for a good laugh.
-And an honorable mention:
When he returns to the Meadowlands to play the
Jets
, he gets a little emotional as he reminisces about coaching in the
Giants
organization for a decade. When in the defensive meeting room, Belichick, with his voice catching, just can't get over how small the meeting room is compared to his memory of it. He even gets excited about seeing the old racquetball court. He was asked who won the racquetball games between him and Bill Parcells. "I probably beat him more than he beat me. As soon as it was over, he'd light into about four cigarettes."
For more NFL news, rumors and analysis, follow

@EyeOnNFL

on Twitter and subscribe to our
RSS Feed
.