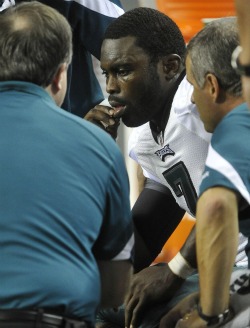 Posted by Josh Katzowitz
For a quarterback who likes to scramble and whose coach calls draws specifically because of that quarterback's athleticism has to know he's at higher risk for taking shots from the defense.
And as we've seen, quarterbacks are not immune from suffering head injuries, even if they never leave the pocket. So, wouldn't it make sense for the quarterback who does so much running to wear a mouthpiece to protect himself from the dangers of a concussion that could keep him out of the lineup for weeks to come* (and, more importantly, help keep himself healthy in the long run)?
*I mean, Dunta Robinson was playing in this game, for gosh sakes!
You'd think so, but according to
Foxsports.com
, which studied the videotape from the
Eagles
loss to the
Falcons
, Philadelphia quarterback
Michael Vick
didn't appear to have a guard in his mouth when he was hit after a throw and
suffered a concussion
while banging his head into his tackle,
Todd Herremans
.
And Alex Marvez writes that if Vick
had
been wearing a mouth protector, perhaps his concussion and his lacerated tongue could have been avoided (even though Marvez also writes, "There also isn't a definitive medical link between mouth guards and concussion prevention although some studies and anecdotal evidence have strongly suggested this is the case.").
The mouthpieces aren't mandatory, because the NFLPA -- and really, the players -- don't want them. They're uncomfortable, at least until you get used to them, and they make it hard to breathe. Plus there is a question about how difficult it would be to call out signals and audibles if you're wearing a piece of plastic around your teeth.
But if the players are serious about their own health (and they were awfully quick during the lockout to levy charges that the owners were not serious about it), they probably need to take away the option of wearing mouthpieces.
It probably shouldn't, but it always astounds me when players don't seem to care much about their own safety. Whether it's specially-designed helmets or mouthpieces that could reduce the instances of concussions, players, for the most part, seem uninterested in trying something new that could help. The NFLPA should make them care by agreeing to make mouthpieces mandatory.
And you know who
was
wearing a mouthpiece during that Sunday night? Backup Eagles quarterback
Mike Kafka
, who probably will start in place of the concussed Vick next week.
For more NFL news, rumors and analysis, follow

@EyeOnNFL

on Twitter and subscribe to our
RSS Feed
.