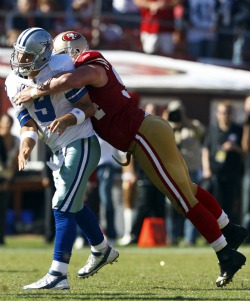 Posted by Josh Katzowitz
Tony Romo
doesn't know if he's going to play Monday night vs. the
Redskins
, but he knows that he wants to play and will do whatever he can to play. Which includes wearing a flak jacket made of Kevlar to protect the ribs he fractured and the lung he punctured* last week.
*Luckily for him and the Cowboys, as my CBSSports.com colleague Ryan Wilson points out, his lung has healed. Which, you know, is a good thing.
The jacket is made of the same material protecting U.S. soldiers, and if it can stand up to stopping bullets, it should be OK to hinder linebackers from making a dent in Romo's chest.
"It's a pretty neat little product when they show you," Romo said Friday evening on NBC Sports Talk on Versus. "These things take bullets and they put people in them that have a lot more at risk than I do. We're going to use it and I think it will be able to absorb quite a bit of contact coming in. It's thinner than you think, which I thought was a real positive putting it on."
Not only does it stop bullets, but the material stops a hammer to the head as well (for that bit of knowledge, you can thank SI.com's Will Carroll, who posted
video of himself
testing out the flak jacket. By banging a hammer off his dome).
Some teammates, including backup quarterback
Jon Kitna
, expect Romo to play. And you know who is a big fan of that notion? Redskins cornerback
DeAngelo Hall
-- who, as you'll recall, said this earlier this week:
"I want to get a chance to put my helmet on whatever's hurt," Hall said. "Romo's ribs -- I'm going to be asking for some corner blitzes. If I know
Felix Jones
' shoulder's hurt, I'm not going to cut him. I'm definitely going to try to hit him up high, so that's just part of it. If you know something's wrong with an opponent, you're going to try to target in on that."
Peter King asked Romo about that on Versus, and here was his response.
"If DeAngelo wants to blitz, that will be a little bit less in their pass overage," he said while smiling. "By all means, he's welcome to blitz. That's part of the game. Anybody who plays this game knows that. I wouldn't put myself out there if I didn't think I could take a hit to the ribs and keep going."
For more NFL news, rumors and analysis, follow

@EyeOnNFL

on Twitter and subscribe to our
RSS Feed
.