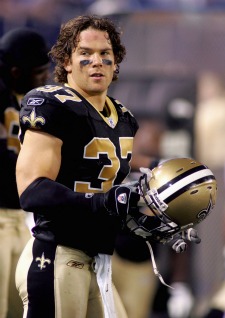 Posted by Josh Katzowitz
Steve Gleason played for the
Saints
from 2000-06, and his biggest moment on the field might have occurred five years ago when he blocked a
Falcons
punt in the newly-reopened Superdome post-Katrina. He's 34 years old, and as a retired player who excelled on special teams, he should be loving life and looking forward to the upcoming decades.
Instead, he's locked in a battle with one of the cruelest diseases known to man. As the
New Orleans Times Picayune
reports, Gleason has been diagnosed with amyotrophic lateral sclerosis, aka as Lou Gehrig's disease, a malady that shuts down the body's ability to move while the mind stays sharp. And while it must have been devastating to receive that diagnosis in January, Gleason is trying to make the best of it, forming a Team Gleason organization that will increase awareness and raise funds for ALS.
"It's easy to start questioning whether God has this plan and why the plan would include me getting diagnosed with this disease," Gleason told the paper. "And that's when you can start why-ing yourself to death. More than that, I've thought, what does this mean, how does this help me fulfill my purpose in life? If we have a purpose in life beyond being a cog in the human machine, mine is to help inspire people and that's pretty cool. I would like to motivate the world."
Gleason's problems began last summer when he noticed a curious twitching in his upper arms and chest.
"My doctor told me it could be a wide spectrum of things, with the worst-case scenario being ALS," Gleason said. Eventually, he started having trouble lifting his fingers and toes. Then, the devastating diagnosis.
"It is unbelievable how devastating this disease can be to patients and their families," said Steve Perrin, the CEO and chief scientific officer of ALS Therapy Development Institute. "This is one of the nastiest diseases there is."
It sounds, though, like Gleason is trying to make the best of his new situation.
Make sure to read the rest of the
TP story here
. It's a fantastic look at a man who will struggle with this demon the rest of his life.
For more NFL news, rumors and analysis, follow

@EyeOnNFL

on Twitter and subscribe to our
RSS Feed
.