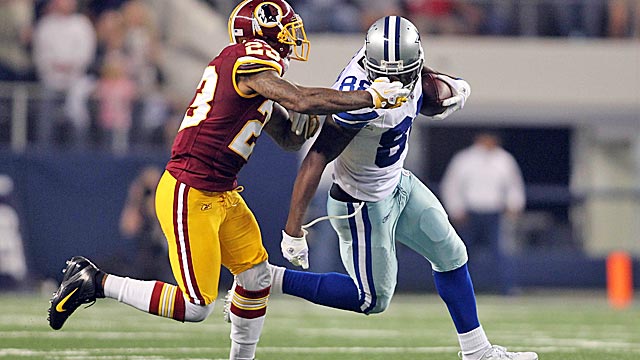 Posted by Josh Katzowitz
For a guy who made such a big proclamation about going after
Tony Romo
's ribcage and
Felix Jones
' shoulder, for a guy who can
talk such a big game
,
Redskins
cornerback
DeAngelo Hall
didn't make much of an impact in the Redskins 18-16 loss to the
Cowboys
on Monday night.
He had six tackles, tied for second-most on the team, but the biggest play of the night featuring Hall was when Romo scrambled on a third-and-21 in the fourth quarter and found
Dez Bryant
open for the first down. Guess who covered Bryant on that play? Hall. Guess the other mistake Hall made on that play? Yep, he tackled Bryant, in part, by grabbing his facemask to earn a 15-yard penalty.
Now, should Hall be blamed totally on the play that extended the Cowboys game-winning drive? No, because it's nearly impossible to blanket a receiver in coverage for that long during the course of a play. But for Hall, who made such a big announcement before the game and then did next to nothing in it, he looked rather foolish.
Yet, that didn't stop him for blasting the referees and the Redskins gameplan in the locker room afterward, especially on that game-losing series when defensive coordinator Jim Haslett continued to dial up all-out blitzes, leaving his corners in single coverage.

CBS Washington
has the audio of Hall's comments, and it's clear Hall feels outraged by the game's result. And by the play-call that preceded his burning.
"Sooner or later, somebody is going to f------ figure it out," Hall said. "You don't have to be a rocket scientist to f------ figure it out."
For the record, Shanahan defended the play-call, saying, "We had a chance to have a sack there. (Romo) did a good job scrambling and made a play. It happens. That's the nature of the game. It didn't work."
Hall also had some words of wisdom for the official who penalized him for the facemask call that added 15 yards onto the end of Bryant's 30-yard reception.
"It was a f------ terrible call," Hall said. "I told the ref that he was going to f------ lose his job. I told him that might be the worst call of the game. He's going to get some demerit points for that call. That wasn't no facemask, man."
Except that replays (and in the photo above) showed Hall clearly grabbed, even if for just a split-second, Bryant's facemask in the process of bringing him down to the turf.
But the facemask hardly matters in the scope of Hall's performance. Hall made some big plans before the game, and he failed to deliver. Not just in hurting Romo and Jones and/or knocking them out of the game.
But in failing to make a positive impact whatsoever.
For more NFL news, rumors and analysis, follow

@EyeOnNFL

on Twitter and subscribe to our
RSS Feed
.