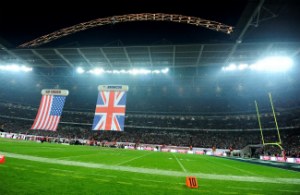 Posted by Josh Katzowitz
For those NFL teams who hate giving up a home game in order to fly overseas and play a tilt in front of European fans, it sounds like they're going to be twice as disappointed next season.
Daniel Kaplan of the
Sports Business Journal
reports that commissioner Roger Goodell told him that the NFL would like to play two games next season in Europe. According to Kaplan, he believes both games would be in London.
For
Bears
linebacker
Brian Urlacher
, that probably doesn't sound like a good idea, considering
he said this
in June when asked about playing in London this season:
"No, I'm not excited to go to London," he said. "I don't understand why they do that. ... I am not excited to go to London, I will say that. I can't imagine many players would be, considering the travel involved and disruption to their weekly schedule."
Last year, when I spoke to
Takeo Spikes
about it, he described the difficulty of adjusting to a time zone that is five hours ahead of the U.S. East Coast and eight hours ahead of the West. Though he said he enjoyed the trip, it wasn't easy on his sleep patterns.
From my
Five Questions (or more)
with him:
CBS: You guys went straight from Carolina to London, while Denver spent a couple extra days at home. Do you think it helped that the 49ers flew out early to let your bodies adjust?

Spikes: I think it helped. To be honest, we got there Monday morning, and we didn't recover until that Thursday. That's when everybody's bodies were back on schedule. I can't even imagine doing what Denver wanted to do and expect them to feel well-rested and alert. I know for us, even on Wednesday, I still couldn't go to sleep on time.
But there obviously is big money to be made in Europe and the NFL feels it needs to continue pushing its global brand. And really, what would a team like the
Bengals
rather have? Playing in front of an excited, sold-out crowd in Wembley Stadium or a half-full stadium of Cincinnatians who are apathetic about the product in front of them?
Maybe the former.
For more NFL news, rumors and analysis, follow

@EyeOnNFL

on Twitter and subscribe to our
RSS Feed
.