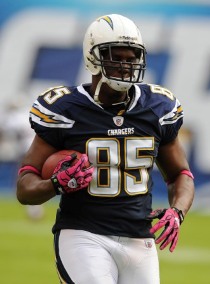 Posted by Josh Katzowitz
In the first game of the 2011 season,
Antonio Gates
put up the kind of stat line we've grown accustomed to seeing from him throughout his career: eight catches and 74 yards in a San Diego victory. But even though he played in Week 2, it was clear something wasn't right with his foot, and for now, he's out of the
Chargers
equation.
On Tuesday, Kevin Acee from the
San Diego Union Tribune
asks a pertinent question about the state of Gates' career. Writes Acee: "But now, as the man who has proven his toughness again and again is again out for an indefinite period, we must consider the highly uncomfortable, almost unthinkable possibility: Is this the beginning of the end?"
Gates obviously doesn't think so.
"No," he said. "I think physically you get an idea about where you're at by going out and playing and running around. Prior to the
Patriots
game, I felt like I could still be who I am. … Practice wise, I'm running around, I feel fast. So, to me, I just always, you know, I've always been optimistic on everything."
Gates
proved his toughness
last year when playing much of the season with the painful foot condition known as plantar fasciitis. Gates said his foot isn't feeling quite that bad this season. But he also planned to see a foot specialist today to determine where he can go from here.
"It gets frustrating," Gates said. "… (Seeing more specialists) I think I get the satisfaction of knowing that it's not anything that would hinder me from my career. … Rest can definitely help, but it's a combination of, at what point is the worst-case scenario for me? Is it going to be a situation where if I rest it ain't going to make a difference if I come back and run, because you have to get through the scar tissue?
"It's always up to me and how much pain I can tolerate. And I think to me, that's the most deceiving thing about MRI, because they tell you how you (are) structurally. But they can't, no one can just tell you how you feel."
For now, it looks like Gates could rest his foot for another three to five weeks and then try to return, although a doctor interviewed by Acee for his story isn't sure rest is going to help much. He's not quite there yet, but at some point soon, Gates might face a crossroads between playing in pain, resting his foot for a longer period of time or just flat-out retiring.
For more NFL news, rumors and analysis, follow

@EyeOnNFL

on Twitter and subscribe to our
RSS Feed
.