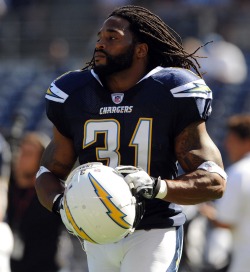 Posted by Josh Katzowitz
When the
Chargers
signed safety
Bob Sanders
to a
one-year deal
in March, this was the reaction from general manager A.J. Smith: "We have always held him in high regard. He's a smart, physical, instinctive player. His intensity and playmaking ability can make an immediate impact on our defense."
Smith, though, forgot this caveat: "… When Bob is, you know, healthy."
Which he hasn't been for much of his career and which he's not right now, as the Chargers proved today when they placed Sanders on the Injured Reserve List while signing former
Bears
defensive tackle Tommie Harris, a three-time Pro Bowler who was cut by the
Colts
in the preseason.
Sanders seemed on his way to having a nice bounceback year -- I, sigh, put him on the
Top Ten list
of comeback player of the year award possibilities -- recording 12 tackles through the first two games of the season. But he missed last week with a knee injury. And though it sounded only two days ago like the swelling in his knee would keep him out only a short time, that diagnosis apparently changed.
"My career is not really about showing people how tough I can be," Sanders said earlier this week. "I've been down that road. Right now, I'm just trying to be smart."
And now he's gone for the season.
"All we wished for Bob was good health and hoped to turn him loose to do his thing, which was being one great, physical, highly-competitive player," Smith said in a statement. "It didn't work out for him or us, and we wish him the very best. He was with us a very short time, but made a positive impact with our team in many ways, and I'll always appreciate that."
Where can Sanders possibly go from here? It's impossible to answer because the guy is never healthy. After this season, he'll have played only 48 of 128 possible games in his eight-year career, and you have to wonder if another team will take a chance on a player who's never participated in a full NFL season.
For more NFL news, rumors and analysis, follow

@EyeOnNFL

on Twitter and subscribe to our
RSS Feed
.