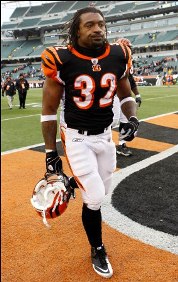 Posted by Josh Katzowitz
While the NFL didn't have a problem handing down
a three-game suspension
to
Bengals
running back
Cedric Benson
for violating the conduct policy in the offseason -- though there was a lockout and he was a free agent, meaning he wasn't actually employed by anybody -- the league apparently is not finding it as simple to rule on the appeal of that suspension.
Originally, Benson was supposed to be suspended for last Sunday's Buffalo game (though Benson made it clear by the end of the week that
he WAS going to play
in that one), this week's game vs. the
Jaguars
and the Oct. 16 contest with the
Colts
.
But since the league still hasn't ruled, nobody seems to know what the heck is going on with his suspension. In response, NFL spokesman Greg Aiello told CBSSports.com that the league "will render a decision as soon as possible."
As Bengals
Rapid Reporter
Paul Dehner writes, Benson appealed last Tuesday, and as of Monday, he hadn't heard anything from the NFL. And if the Bengals don't hear anything by Wednesday, they'll assume he's good to go for the Jacksonville game.
Said coach Marvin Lewis: "There is no time frame from what I understood."
Aiello told CBSSports.com that the appeal's officer for the case is Harold Henderson -- who was the NFL's longtime legal counsel -- and not Goodell like I originally thought.*
*I thought Goodell handled all the appeals for the non-drug suspensions, but Aiello called that another myth. Of course, it would be tough to call Henderson a completely unbiased judge since he worked with the league for so many years.
But since it's taking so long, it's fair to wonder whether the NFL is struggling with this issue. After all, Goodell didn't suspend
Aqib Talib
and
Kenny Britt
for their offseason violations (even though they, along with Benson, were on the list
supposedly approved by the NFLPA
that would allow the commissioner to suspend a group of eight players).
Maybe Benson's appeal, in which he said he presented plenty of facts of his arrest(s) on assault charges and perhaps argued that he wasn't an employee of the league at the time anyway, actually will work. Because it seems to me that if Goodell chose not to suspend Talib (who's facing a far more serious charge than Benson) and Britt (whose arrest record compares pretty equally to Benson's), he really doesn't have a basis to suspend Benson either.
But we'll see soon enough what Henderson thinks. My guess: Benson will still miss some games.
For more NFL news, rumors and analysis, follow

@EyeOnNFL

on Twitter and subscribe to our
RSS Feed
.