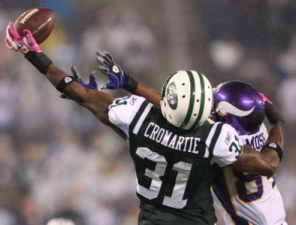 Posted by Josh Katzowitz
Jets
cornerback
Antonio Cromartie
is a big fan of the spoken word. No matter what happens in the game -- like, when, he gets beaten for a couple of touchdowns -- Cromartie doesn't seem to lose confidence in his abilities.
You might recall last January when Cromartie,
for whatever reason
, called
Tom Brady
an "ass----" and when asked why he would say something so harsh, he responded, "That's what I think about him. I don't really give a damn about him. I don't have to play against him. I play against the receivers."
Well, apparently, the Jets win against the
Patriots
in last year's playoffs has emboldened Cromartie even more and somehow given him even more confidence. Which is why he painted a big ol' bullseye on his back this week in preparation for the Jets-Pats showdown this Sunday and invited Brady to throw passes at him.
"I hope I'm a target this game," Cromartie said, via the
Associated Press
. "I want to be a target every game."
Well, of course, Brady is going to target Cromartie. I mean, it's not like Brady is going to seek out a meeting with
Darrelle Revis
. But still, now that he's had some time to think about his Brady statements from last season, he probably feels contrite about calling Brady a jerk-face. Right?
"I'll never change how I feel about Tom Brady and what I said last year," said Cromartie. "Do I respect him? Yes. He has three football rings. But other than that, when we're on the football field, I don't really give a damn."
Yet, it's not like Cromartie has been wonderfully consistent this season. He allowed two touchdowns in Week 1 but then snagged two interceptions in Week 2 vs. the
Jaguars
. He's one of the best No. 2 cornerbacks around, but when he gets beaten by a receiver, he
really
gets beaten.
But you know what? Maybe, he
is
in Brady's head. The Patriots quarterback shut down his weekly news conference after only five minutes because people kept asking about Cromartie and the comments he made.
"I don't really care what he says," Brady said before leaving.
But Brady probably does care. And it's like your boy Bill Shakespeare wrote all those years ago, "The Brady doth protest too much, methinks."
For more NFL news, rumors and analysis, follow

@EyeOnNFL

on Twitter and subscribe to our
RSS Feed
.